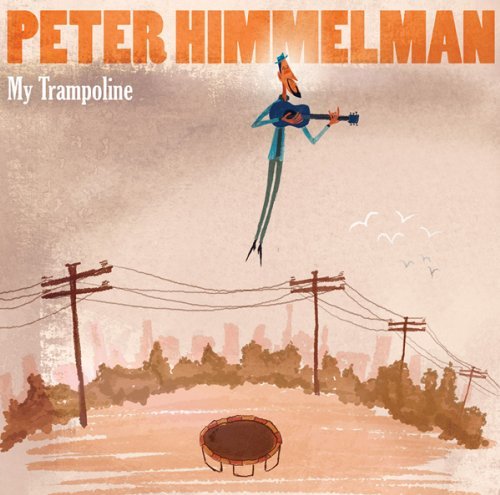 Before They Might Be Giants turned crossing over to kid's music into a viable business model, Peter Himmelman was doing it — and unlike the whimsical TMBG, Himmelman never seemed like a natural fit for a younger demographic. This isn't to say Himmelman's "adult" CDs are inappropriate for younger ears, but they aren't exactly whimsical, either; in fact, they're often harrowing self-examinations prompted by grown-up stuff like death, heartbreak, or — in the case of 1992's absolutely devastating "Untitled" — a long ride with an anti-Semitic cab driver.
So yes, Peter Himmelman may not have been the artist most likely to start a second career as a performer of children's songs, but here's the thing: as anyone who's followed his artistic path is aware, he's comfortable writing in pretty much any genre (including scoring for TV, which he's done quite a bit in the last 10 years), and no matter what he does, he always writes honestly, which is the key ingredient in this stuff. That honesty, coupled with Himmelman's keen eye for beauty and deep insight, is what makes his kids' CDs so special — a collection now expanded to include his latest effort, My Trampoline. Here, for example, is how he describes his inspiration for the My Trampoline track "Ten Billion Blades of Grass":
The idea for the song struck me when staring at our lawn one morning. Each of the blades of grass seemed like a sentient being, with perceptions, however subtle, about the world around them. The thought occurred to me that they get along so well because they're one big family.
It's a pretty brilliant idea for a song aimed at children — and a sentiment far too goopy for most adults to express, even ones who make their living recording songs about not wanting to clean rooms or eat peas. It's also beautiful, and a highlight of an album full of them.
My Trampoline arrives two years after My Green Kite, which netted Himmelman a Grammy nomination for Best Musical Album for Children, and combines the beauty of songs like "Ten Billion Blades of Grass" and "Endless Green" with more humorous tracks, like "Are There Any Kids Named Steve Anymore" and "Peter's a Pin Head" (which is not a Don Rickles routine, but rather a song about a boy who won't eat). Like Himmelman's grown-up fare, it won't appeal to everyone, but for more thoughtful kids (and parents!) who choke on all the sugared-up, Day-Glo music geared for the younger set, Trampoline is a godsend. (And don't just take my word for it — the album has already earned the Gold standard from the National Parenting Publications Awards.)
Himmelman is so prolific that by the time any given album comes out, he's already on to the second or third thing on his list, but Trampoline is getting a good-sized promotional push from the label, Minivan Productions, and Himmelman is going to be broadcasting a more kid-friendly version of his stellar Furious World podcast (titled "Curious World") at the Land of Nod. Watch this live performance of the title track, then follow some of the links in this review to learn more.