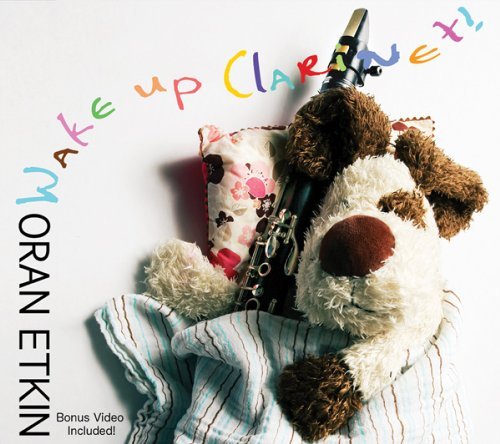 Toots Thielemans once joked that when you mix jazz with anything else, you often end up with nothing. He was defending his decision to mix jazz with Brazilian music for his first Brasil Project album, so his point was ultimately that good jazz doesn't have to be pure, but you get the idea — and if you've ever listened to a Kenny G or Dave Koz record, you probably agree that jazz generally doesn't benefit from being blended or watered down.
Rules are made for exceptions, however, and here's a fine one: Oran Etkin's Wake Up, Clarinet!, which offers a delightfully breezy 22-minute course in basic jazz for the younger set.
Dedicated to, in his own words, helping kids "develop a rich musical vocabulary and creativity," Etkin teaches the Timbalooloo Method, using games and stories to help teach music theory. Judging from Wake Up, Clarinet!, it's a class I'd like to join. Unlike a lot of "____ for kids" projects, it doesn't waste time with cutesy sleight of hand; these nine tracks (three intros and six musical numbers, running from 2:24 to 4:29) are simple, but they brim with an obvious, infectious joy.
Not to mention solid musicianship: the small combo Etkin leads here (on clarinet and sax, natch) includes Jason Marsalis on drums, Fabian Almazan on piano, Garth Stevenson on bass, Curtis Fowlkes on trombone, and vocalist Charenee Wade, who serves as Etkin's foil throughout. (You can watch Etkin perform three songs by putting the enhanced CD in your computer, too.
)
It's worth mentioning that the concepts Wake Up, Clarinet! addresses are decidedly basic — high notes and low notes, that sort of thing — but Etkin does such a fine job of incorporating those themes into the performances that it never feels like he's talking down to the listener. These are just bite-sized songs, steeped in jazz, and bursting with a wonderful energy.
Whether or not you think you care about jazz, this is a Wake Up that should strike a chord with music-loving families everywhere.