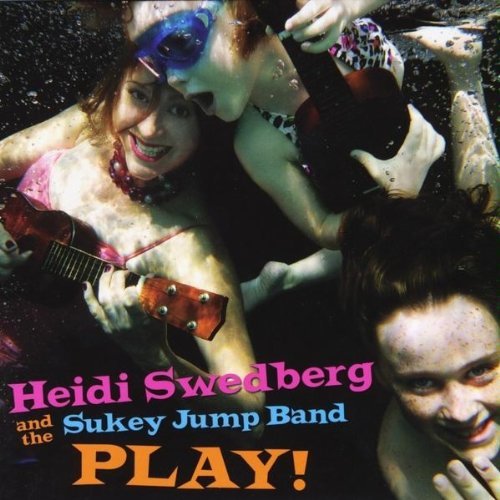 What comes to mind when you think of the ukulele? If you're a member of my generation (or older), you probably think of Don Ho or his many cheesy, Hawaiian-shirted imitators — but the uke is so much more than "Tiny Bubbles" on The Lawrence Welk Show, and Heidi Swedberg is doing her part to demonstrate just how family-friendly ukulele music can be.
Play! offers up 15 tracks, most of them from the public domain (examples include "Froggie Went a-Courtin'" and "Pop Goes the Weasel"), with few production frills and plenty of silly charm. It's a conscious throwback to the days of family parlor music — as Swedberg writes in the liner notes, listeners should "Tune up and learn one, two or three chords. Play!" And if you're a little intimidated by the prospect of sitting down and learning to play "Kookaburra" or "My Dog Has Fleas," don't worry — she's included tabs in the booklet. Unlike the many albums engineered to make your kids beg for Backyardigans dolls or Dora backpacks, here's a collection that challenges you to make your own joyful noise.
How refreshing is that?
And okay, so you probably aren't going to shut off the TV and start a family band right away. But even if listening to Play! doesn't inspire you to buy a ukulele for every member of your family, it's still an awful lot of fun — Heidi Swedberg is an immensely appealing performer, and she has a lot of fun with her song selections, whether she's crooning the "Japanese Umbrella Song" or lending a little pineapple flair (and singing saw) to "Dream a Little Dream." For mellow afternoons, dancing in the kitchen with your kids, or family band practice, Play! backs up the cheerful demand imposed by its title. More, please.