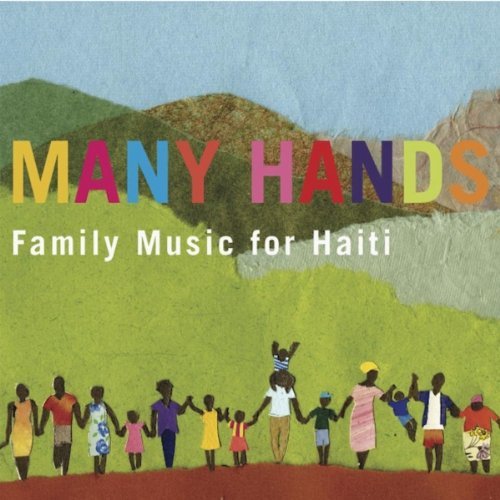 You wouldn't be visiting Dadnabbit if you weren't looking for quality entertainment that your whole family can enjoy.
What if you could have it — lots of it — and support a worthy cause in the bargain?
That's the idea behind Many Hands: Family Music for Haiti, the debut offering from Bill Childs' Spare the Rock Records, and it works splendidly. The track listing boasts a virtual Who's Who of the best and brightest in kindie, including Recess Monkey, Elizabeth Mitchell, Gustafer Yellowgold, Dan Zanes, and Uncle Rock — and almost all of the songs are previously unreleased. The set was produced by Dean Jones of Dog on Fleas, who helped round up the artists (including Pete Seeger, recorded in a single take in his living room) and contributed a pair of tracks (Dog on Fleas' lovely "Sing About the Sun" and the quirky, irresistible Jones solo cut "Little by Little").
If you're familiar with Bill's work, or any of the artists I named above, you know what to expect from Many Hands — it includes its share of boisterous, candy-colored tracks (like They Might Be Giants' "My Name Is Kingof Socks"), but this crew is fighting the good fight; where they go, smart, honest kids' music is sure to follow, and most of it is stripped down to its bare essentials. There's no artifice here, no pandering to children, no teeth-grindingly cute arrangements or lyrics. Just family entertainment, in the truest sense — beautifully recorded by a family of artists, to benefit families half a world away.
More about that worthy cause: Proceeds from Many Hands go to the Haitian People's Support Project, where they're working hard to repair the devastation of the January earthquake. It's a crisis too great for one charity — or one great CD — to solve, but you can help by picking up a copy of the album and explaining the story behind it to your kids. And if you're lucky enough to live within driving distance, you can attend one of the Many Hands concerts scheduled for the fall.
(While it wasn't an official Many Hands show, Dadnabbit was lucky enough to play a part in bringing Dog on Fleas to our rural corner of New Hampshire recently. Pictures here.)
The more time I spend with kids' entertainment, the less patience I have for movies or music that waste energy condescending to their audience. Kids are just like us — they respond to things that make them feel, that treat them with respect, and that trust their intelligence. The artists who contributed their time and talent to this project understand this, and that's what makes it such a beautiful, valuable listen. If you buy only one CD for your family this year, make it Many Hands.