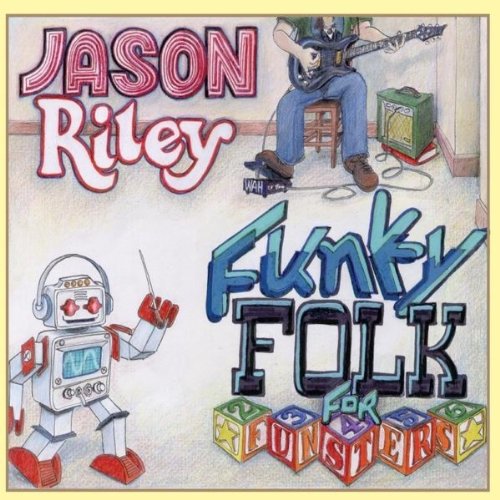 He might be overstating things a little with the "funky" part of the title — no one is ever going to mistake Jason Riley for Booker T.
, or even the Sugar Free Allstars — but this is an utterly pleasant, thoroughly nifty nine-song instrumental tour through European and American folk traditions.
Anchoring a three-piece combo that features himself on "guitars and sundries," Craig Kew on bass, and Terry Brock on violin, Riley serves up simple, affectionate takes on public domain favorites, running between two and four minutes apiece. It all adds up to a very quick listen — it's over in less than half an hour — but it's still an interesting case study in just how deeply kindie artists rely on folk music. If you've built a decent-sized collection of family music, you probably own more versions of "Froggy Went A-Courtin'" or "Camptown Races" than you can count, and you may not even notice when an artist like, say, Caspar Babypants covers a traditional number like "Shoo Fly" or "The Cuckoo.
"
Riley isn't offering an explicit history lesson here, and in fact you can listen to Funky Folk without thinking about anything at all — it makes fine background music — but a glance at the CD's back cover demonstrates the level of thought that went into his selections. He does include "Froggy" and "Camptown," as well as "I've Been Working on the Railroad," "Frere Jacques" and "Allouette," but he also works in some Dvorak (the lovely "Largo," inspired by the composer's trip to America) and Liszt ("Liebestraum").
The cumulative effect is one of separate strands entwining to create a beautiful whole — which is what music is really all about in the first place, isn't it?
Related articles