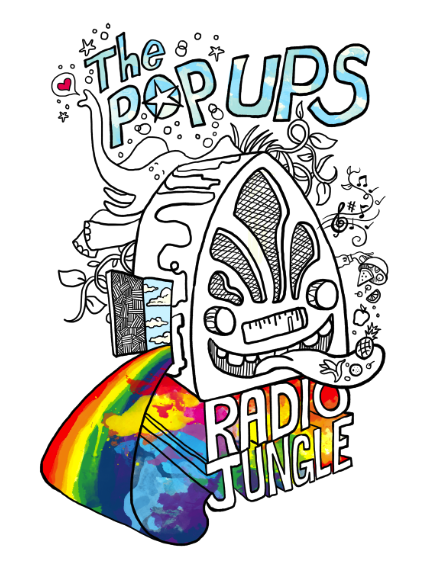 The Pop Ups came out of left field in 2010 with the release of Outside Voices, a synth-pop debut album that raised the creative bar in the Kindie music scene. The release of Outside Voices also spawned a live puppet show called Pasta! that had successful runs in both New York and L.A.
Jacob Stein, one half of The Pop Ups, took time and answer some of our questions about the new album Radio Jungle, the writing process and the Kindie music scene.
How excited are you to have this project for ready for public consumption?
It's amazing. For this record we finished it and then we went through more post production. We had it mixed at Roll Poll studio by Andy Baldwin who recently worked on the new Bjork record. We had it mastered. We've had it done for awhile, but it's just great to finally have it out there.
How do you go from zero expectations to being Kindie pop darlings?
I can't say it's the easiest thing. You can't avoid the expectations. We just tried to walk into the room, as innocently as you can, and write songs that gave us pleasure. We weren't aware this whole Kindie world  even existed. The first time we even heard the word 'Kindie' was at KindieFest. The response to Outside Voices was tremendous. For this record, we just tried not to think about it. We just wanted to write the next record that we would enjoy ourselves. We just followed the fun. We reminded ourselves throughout the process, just have fun.
You had previously work on kid related projects, so how did the Pop Ups eventually form?
Jason and I had worked together on a couple of kids music projects that were more from my side of the field. He produced a song for a Jewish kids record in 2007. Before that he came in and played on a Passover musical project that I had been working on. It was his idea. He came to me and said, "Let's write something together" Initially, we had no expectations. We thought we might take some of the music to some classes and that was about it. There was a moment of recognition for us, that when we sat down to write it, it just followed immediately. As an artist, it's a rare thing to find somebody that you can write and create with and then to find and continue to write with, it was just a pleasure. To tell you the truth, the first Pop Ups record came from the joy of a collaborative, artistic process. You had to honor a good writing relationship because it was just so rare. It's amazing to connect to another artist.
Did the knowledge of having to write another puppet show, find its way into the writing process this time around?
That was a difficult decision to figure out. We decided to work the exact same way, but knowing it's really hard to recreate anything.
We tried to keep the play angle out of it and not focus on the narrative. Start with ideas for songs that were interesting to us and exploring them. But as we were putting together the Radio Jungle play, there were certainly moments where we asked ourselves "why did we do it this way?" I think Jason and I feel that The Pop Ups, at its root, are a band. As we started to adapt Radio Jungle into a musical, we learned we really had our work cut out for ourselves to try and find connections that made sense. I think Pasta! was an easier show to write. I'm really proud of the new show and excited for it. You can't try and recreate what you've done previously.
How did your relationship with Yo Gabba Gabba Live come about?
One of the producers had seen our Pasta! show and asked us to do a date or two with the live show. We had a visual show that fit in perfectly with Yo Gabba Gabba Live show. We had to make some adaptations.  We were playing such large arenas compared to the Pasta! shows, so we had to remake the Subway Train puppets nearly four times as large as we originally made them. I really think that the crowds, both parents and kids, appreciated something they could really sink into and participate in.  
(At this point Jacob tells a fantastic, Spinal Tap-esque story about their first performance at a Yo Gabba Gabba live show. Typing the words simply won't do it justice. So the next time you see him, ask him about the story and the phrase "What do you mean it's not gonna work?" )
How has the kids music scene been on your wallet?
You know, that's a tough question. As an artist, it's hard to talk about money. We have been extremely happy to find such a enthusiastic audience. We have found the kindie scene has such a large area for growth. We have been grateful. Let's just say we haven't been able to quit our day jobs, but we have however enjoyed our success. The dream is to be able to create our art all the time. As some point, the Kindie scene will get there.
What has been the biggest surprise with discovering the kindie scene?  
I think there were two surprises. First, the bands that we've become friends with. The guys in Recess Monkey are great and Lucky Diaz is a pal of ours. There is a bunch more. It's just been really cool to find other artists who are very similar to us in what they want. Which is that they just want to make music that they love, that can be capable of connecting with kids.
It's been really cool to find kindred artist out there.
The second aspect I love is the dialog between writers. Stefan Shepherd writes really well and Jeff Bogle writes really well. The people that take it seriously are really thinking and engaging in a dialog about the scene. I like the higher level discussion. I get a real kick out of it.
Listen to the new album in it's entirety below. If you can't move your head to 'Box of Crayons' we can't be friends.