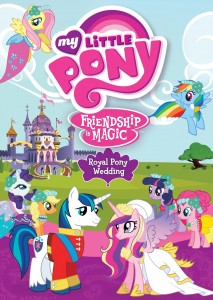 Here's the deal, fathers. If you have daughters—or sons who don't care about outmoded gender roles (and if so, good on you, man)—there is a 90 percent chance that at some point during your day, you're going to have to watch something with unicorns in it. The key is to find a unicorn-based entertainment which your picky-as-to-unicorns children and you, a reasonable adult, can watch together and enjoy as much as possible.
It's actually not that hard. My Little Pony – Friendship is Magic: Royal Pony Wedding comes out on DVD from SHout! Kids on August 7. A two-hour length special miniseries of five episodes from the shockingly popular, actually pretty hip and funny The Hub channel's 2010 reboot of the fanciful '80s series, it's both unicorn heavy (the way MLP always should have been!) and high on the drama.
Reflecting and condensing the recent English royal wedding fervor for children, the plot concerns Shining Armor's impending nuptials to Cadance, the well-heeled niece of Princess Celestia. Shining Armor's sister is, of course, Twilight Sparkle, so this marriage is one of romance, but also at least somewhat politically motivated, as this royal marriage will certainly consolidate power and join two of the most powerful families in the city-state of Ponyville. It's also worth mentioning that these are some great unicorn names.
There are songs, rainbow-haired unicorns in wedding dresses, and lots and lots and lots of pink.
It's kind of ridiculous, but totally fun. Shout Kids! has graciously offered us up a giveaway: a brand-new DVD of My Little Pony: Friendship is Magic: Royal Pony Wedding. If you think you've got the pony magic to bring this one home for you or your kids, leave a comment below.
A random respondent wins! Dadnabbit is magic!
NOTE: Contest is now closed.