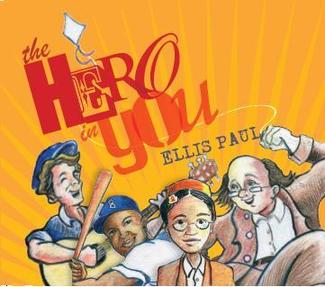 Five years after releasing Dragonfly Races, Ellis Paul returns to kids' music with The Hero in You. The album takes a look back at people who have made an impact on American history in a variety of ways. Whether Paul is singing about Benjamin Franklin or lesser-known individuals like Augustus Jackson, he finds an incredibly compelling way to tell their story.
One lucky reader will win a copy of his new album, The Hero in You. Simply leave a comment, 'share' this Dadnabbit post on Facebook or retweet this on Twitter and you'll be entered to win.
Dadnabbit was lucky enough to talk to Ellis Paul about his new record — here's what he had to say:
With the new record, there is a sense of pride about telling the stories of people who have impacted American history.
It was really affirming, both to be an American and write it — heck, even having the ability to write it. I mean, if I was in Afghanistan I wouldn't be able to write this record. A lot of that was coming up as I wrote. These people are really, really leading figures at creating protection for human equality. Because I'm so far removed from high school history books, it was good to be reminded of the great things from our history.
How do you follow up a kids' record that had no expectations — how do you match or exceed it?
I think the main thing is realizing the expectations. It's a side project. I do around 150 shows a year and only a handful of them are kids' shows — maybe 30 or 40.
It's never going to eat up the other half of my career, which is writing for adults or for films or television shows. That said, I take the songs equally seriously, and try to just put as much art and time into writing them. There is a lot of joy in those songs that you don't find in my adult stuff. I'm glad it's in my life. It balances the yin and yang. I'm both a dad and artist when I'm writing these songs.
How do you balance touring and being a father at the same time?
My touring is restricted to the weekends. But I'm away pretty much every weekend. It's very hard on my wife. She balances being a single mom when I'm away and she's done an amazing job and I'm thankful for all that she does. I'm back home on Monday and here until Friday.
It's hard, but this  is my calling. I feel compelled to keep doing it.
The new album has a very specific theme. How did the idea come about, and how did you choose the subjects?
My daughters are getting older. I wanted to do an album that was geared towards first and second graders, but all the way up to probably seventh grade. I was a big fan of School House Rock. I had written one song about Benjamin Franklin, but thought, "Why not write a whole record on this?" so I hunkered down and wrote a conceptual record.
Can you see yourself making more historically themed records?
I would love to — they're a lot of fun. There are people like Jesse Owens, Martin Luther King Jr., Abraham Lincoln. But I wanted to mix it up with some people that are less well known. I'm hoping to do two or three of these records and then move on to maybe historical events if the well runs dry.
How do you find a way to make children's music financially beneficial to you?
Well that's the smallest part of my business. I make more money writing and performing music for adults than I do for children. That said, a lot of people that buy my kids' records buy them at my adult shows. They buy them for their kids, grandkids, nieces, nephews.
I'd probably say that kids' music makes up about one-third of what I make. It fulfills my mission as a folk musician, probably more than anything else that I am doing.
What was the appeal to creating children's music in the first place?
If I didn't have kids, I wouldn't be doing this. But I wanted them to grow up with music that was mine. So if Dad is away on a tour, they could put me on the stereo. They were able to be a part of and see the process of making a record. It was a great way for the family to come together on a project.
Do you find yourself with more artistic freedom in children's music?
The rules are changed for kids' music. I'm allowed to be more funkier with children's music. I have a hip-hop song, a spoken word track and a cappella song. Those are choices I couldn't make on an adult record. I don't want to be so stuck in the singer/songwriter thing and approach the songs in one way. The adult records want to have continuity to them, whereas a kids' record just wants to be entertaining song by song. The rule book has changed and it's a lot more free with kids' music.
What's the reaction from your peers when they hear you're making kids music?
I think they get it, because I'm a dad. They know Woody Guthrie, Johnny Cash, and Greg Brown all did kids' music. It's a little weird for the Verve Pipe or They Might Be Giants to be doing this music. But for folk singers it fits in naturally. I'm not afraid of how people view it. I don't see negativity with it. Whether I'm writing a song for Volkswagen or a song about social injustice, I just want to be known as a great songwriter.
What's the difference in playing a club where people have been drinking all night compared to kids hopped up on sugar at one of your kids' shows?
There is not a lot of difference, actually. Sometimes there are crowd control issues at a kids' show. But there's nothing better than hearing a song you wrote being sung back to you by 100 kids. It's just a wonderful feeling.