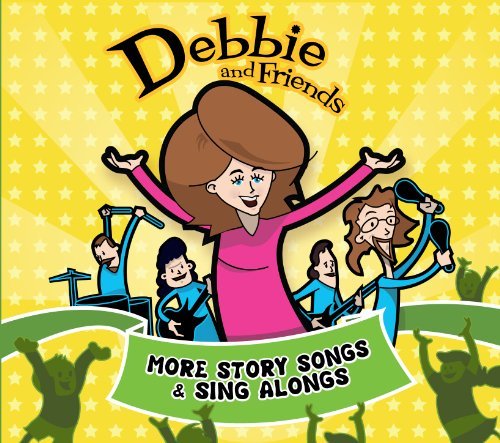 Debbie's back, she's brought her Friends, and she has More Story Songs and Sing Alongs!
If you listened to the first volume, or if you've caught Debbie at one of her many well-received concerts over the last few years, you know what to expect — catchy, positive tunes, delivered with the same strong lines and bright colors you see in the album artwork.
Debbie kicks off the new album with a song titled "So, So Happy," and that about sums it up — this is cheerful music, focused on the best things about family, love, and growing up. Subjects include making silly faces for the camera ("Willy Won't"), sports ("Home Run Ronnie"), achieving goals ("I Think I Can"), and friendship ("Until Next Time"), with a round of Simon Says thrown in for good measure (um, "Simon Says").
There's even a dance track ("Little Red Remix") and a duet with the James Brown of kids' music, Bob McGrath.
What else do you want?
Like the first volume, More Story Songs and Sing Alongs is slickly produced, with a bright polish to go with the smartly crafted arrangements (credits in the liner notes include everything from banjo to strings, brass, and a children's choir). As far as kids' music goes, it's pretty much the polar opposite of recent rootsy discs from the likes of Dean Jones or Rani Arbo and Daisy Mayhem, and it's more narrowly focused, too — Debbie's music is aimed at the pre-K demographic, and perhaps unlike those other artists, your mileage may vary with the older kids in your family. But for the little ones who just want a little primary color fun, More Story Songs and Sing Alongs is just about perfect — 33 minutes of sunshine and dancing. Watch this video for "Home Run Ronnie" and see if you don't agree.