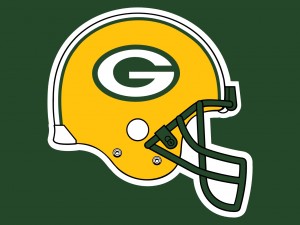 My wife and I are pretty big sports fans. Growing up in Northeast Wisconsin, our Sundays from September to January revolve around the Green Bay Packers.
Saturday's playoff game was our first opportunity to dress our new daughter in Packers garb and "watch" a game with us. I don't think she liked it. Not that I expected her to do anything other than what she normally does, especially since newborns can't see more than a foot in front of them, but the disrespect she showed the Green and Gold was disappointing.
About 15 minutes after putting on her new Packers clothes, she had an explosive bowel movement mid-diaper change and sprayed her outfit. Early in the second half, while being burped, she took advantage of an apparent diapering mistake, and evacuated herself through her clothing, and through my jersey.
I get the feeling she is either not a Packers fan, or just not a sports fan.
It better be the latter, because she won't be allowed to live in my house and root for another NFL team.
The difficult decision comes tomorrow night when the Packers play the 49ers. I'm not sure what I'll be rooting for more – A Packers victory OR a non-explosive diaper.  In the end, I think I can deal with a mess if it would mean another Packers win.  Maybe a dirty diaper is good luck?