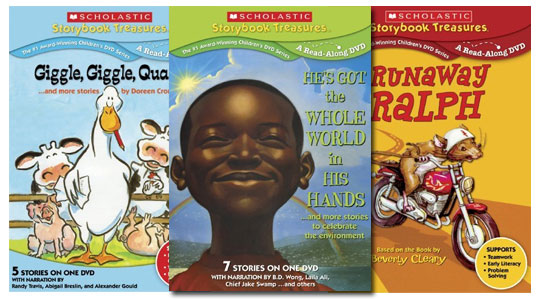 The ever-expanding Scholastic Storybook Treasures library just got even bigger, with the three latest DVDs — Giggle, Giggle, Quack, Runaway Ralph, and He's Got the Whole World in His Hands — adding 14 stories and roughly three and a half hours to the already formidable stack of books that have been given the "read-along DVD" treatment.
If that sentence made you feel a little funny, you're not alone. Given that some kids already need quite a bit of encouragement to read instead of watch TV, and given that many of the DVD segments in the series don't do much besides add voiceovers and karaoke-style text overlays to still art from the books, it can be hard not to wonder just what purpose they really serve, other than helping exceptionally lazy parents avoid reading to their children.
Maybe that's just cynicism, though. As parents, we're so used to being inundated with pitches for more crap, and so accustomed to being disappointed by people who are supposed to have our children's best interests at heart, that something like the Scholastic Storybook Treasures series can seem like a dirty trick even when it isn't. There's definitely something a little off-putting about a book publisher porting children's titles to DVD, but that doesn't really take away from the fact that these are wonderful books, and if you're the type of parent who doesn't see anything wrong with television in moderation, then having the option of letting your kids watch literature instead of Cartoon Network is fairly appealing.
There isn't much flash in these movies, but that's part of their charm; these are gentle, low-key shorts, devoid of the usual production gloss and quick-cut edits. In some cases, this is because of their vintage — Runaway Ralph, for instance, stars a young, pre-Wonder Years Fred Savage — but even the newer films have a pleasant, down-to-earth vibe. They're fun to watch with kids — the kind of entertainment that's calming without reducing little ones to drooling mouth-breathers. And they're well made.
Giggle, Giggle, Quack is the funniest of the bunch, collecting three of Doreen Cronin's Farmer Brown stories ("Giggle, Giggle, Quack," "Duck for President," and "Dooby Dooby Moo") and adding the Harry Bliss-illustrated "Diary of a Worm" and "Diary of a Fly." The Cronin stories boast suitably folksy narration from Randy Newman, who's basically perfect for tales of a comedic farmer-duck war; "Diary of a Worm" features Alexander Gould (Finding Nemo, Weeds), and "Diary of a Fly" features Abigail Breslin.
Runaway Ralph is the slimmest title, offering the Savage-led live-action version of the Beverly Cleary classic along with a stop-motion animated adaptation of Jane Yolen's sci-fi story "Commander Toad in Space," featuring the voices of Mark Hamill and Nichelle Nichols. At an hour in length, it's significantly shorter than Giggle, Giggle, Quack, but it's also got the benefit of having a really well-known title on the cover, so Scholastic can probably get away with going a little light on the extras.
Finally, He's Got the Whole World in His Hands is the timeliest of the three, collecting seven eco-minded stories — including the classic title song, performed here by Billy Joel bandmate Crystal Taliefero, and an adaptation of Karen Hesse and Jon J. Muth's beautiful "Come On, Rain," narrated by Laila Ali — and bundling them into an hour of stories about, well, the world. In terms of length, it might be considered a little light, but Hands includes a lot of great, award-winning stories, and segments like "Come On, Rain" and "Owl Moon" are some of the best in the Storybook Treasures series.
All things being equal, it's obviously still better to read to your kids, but who says you can only do one? If your kids are already familiar with these books, they'll get a kick out of seeing them on TV; if they aren't, these DVDs still contain plenty of excellent entertainment, and at $15 or less, they're all value priced. What else do you need?