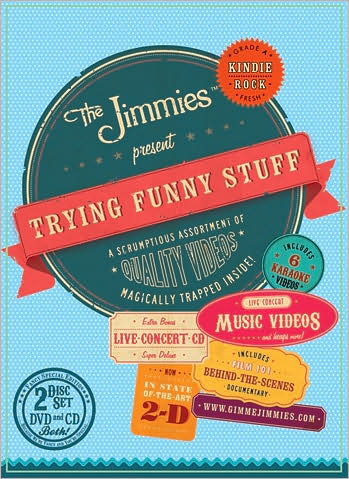 Watch enough kids' videos, and you'll figure out pretty quickly that even though kindie rock is a booming genre, even its most popular artists tend to have more enthusiasm than money — and as a result, music videos for children are mostly pretty low-budget affairs, which is unfortunate, because their target demographic is accustomed to plenty of eye candy.
Enter the Jimmies, the NYC-based group led by singer Ashley Albert (a.
k.a. "Plucky Pea"). They've only released one album, 2007's Make Your Own Someday, so you wouldn't expect their debut DVD to be much to write home about, both because the band doesn't have a huge backlog of material and because they haven't been around long enough to build an audience the size of, say, They Might Be Giants. But the DVD, Trying Funny Stuff, is a wonderful surprise — emphasis on the "wonderful."
The disc kicks off with six music videos, all of which I now know front to back, thanks to the daily viewing regimen my daughter has imposed since Stuff showed up in our mailbox a couple of weeks ago. Familiarity hasn't bred contempt, though; these are the Lord of the Rings of kindie music video, with stellar production values to match the band's smart, catchy songs. Hardcore Jimmies fans will already know five of the videos ("Do The Elephant," "Spanimals," "Cool To Be Uncool," "Bedhead," and "Taddy") from YouTube, but I hate watching stuff on the computer, and besides, the band has been good enough to toss in a brand new video for "What's That Sound?
"
If they hadn't already been mostly available for free, these videos would be worth the price of the DVD hands down, but the Jimmies didn't stop there: Trying Funny Stuff also includes a full concert film, including performances of favorites like "What's on Your Shirt" and "Soaper the Scaredy-Bot" (complete with cameo from said 'bot). As with the videos, the concert is impeccably filmed; most kidvid concerts rely on one or two camera angles, but Stuff was shot like a grown-ups' concert, with slick editing and swooping shots. The band is tight, the crowd is ecstatic, and Ashley is 100 percent adorable. The copy that showed up here was scratched, so a few of the concert numbers won't play all the way through, but my daughter couldn't care less — when she isn't listening to Make Your Own Someday or watching Trying Funny Stuff, she's walking around the house singing Jimmies songs like "Cool to be Uncool" and the "Blister in the Sun" homage "Bedhead."
The DVD also includes a handful of karaoke tracks and a behind-the-scenes featurette that's actually pretty interesting, but if your kids are anything like mine, you'll never get to either section of the disc — you'll be too busy making a gleeful cycle from videos to concert and back again. Kudos to the Jimmies for putting together such a burst of pure entertainment, and here's hoping it sells well enough to fund two or three more albums.