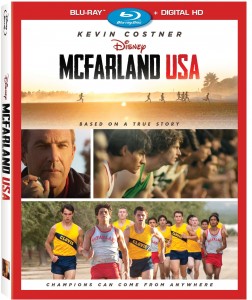 With the words "based on a true story" and "Disney" associated with McFarland USA, you understand you're not getting a documentary. You're getting a modified version of the real events. All that said, McFarland USA is a thoroughly enjoyable underdog-over-comes-the-odds movie. As a former cross-country runner in high school, I found the practices and meets portrayed in the movie to be realistic.
McFarland USA is based on the true story of the McFarland High School cross-country team and its journey from the very beginnings of formation to success. Along the way you get a glimpse of life in California that many Americans don't necessarily think about. For viewers willing to look deeper, it can be an eye opener.
Coach Jim White, played by Kevin Costner, finds himself moving his family to a small predominately Latino town. The town's livelihood is dependent on "pickers," workers who go out into the fields to pick vegetables and fruit. Kids are up before the sun to go to work in the fields and then run to get to school on time. Their families depend on their involvement in the fields to make ends meet. That can often mean education takes a backseat and most definitely extracurricular activities.
While McFarland USA shows the journey of the team, you also experience the journey of self-discovery for Coach White, his family and the teammates. On the surface, you never truly understand the challenges of someone else's life until you experience it firsthand. McFarland USA is a great reminder to look beyond yourself.
An additional aspect that makes McFarland USA, such an enjoyable movie is the soundtrack. It was an immediate download after seeing the movie in theaters. Whether it's the original music from Antonio Pinto, classic tracks from War or a new song from Juanes, it all fits perfectly into the movie.
Overall, if you go into it knowing McFarland USA is a classic underdog movie, you can't go wrong.