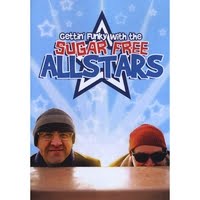 Aside from Martin & Medeski or the Benevento-Russo Duo, there aren't many acts a person can turn to if they're hungry for some stripped down, funky Hammond organ-and-drums action — and in the kids' music universe? Forget it. With the quasi-exception of Taj Mahal's songs for children, funk and/or soul is in short supply in the kiddieverse, and if there are two things our children need more than fresh air, exercise, and to leave me alone while I'm trying to write, those two things are funk and soul. After all, like Whitney Houston said, the children are our future. Try imagining a future even less funky than the world we're living in. Gives you the heebie-jeebies, doesn't it? I mean, if Karl Rove had been fed a diet of Wilson Pickett and Aretha when he was a little boy, things might have turned out a little differently, don't you think?
I digress. Here's what I'm trying to say: There might be bands making music for kids that's funkier, more soulful, and more fun than the Sugar Free Allstars, but if there are, I'm not aware of them — and what's more, the band makes music for adults, too.
The duo, made up of Chris Wiser (organ, vocals) and Rob "Dr. Rock" Martin (drums), isn't shy about augmenting its sound in the studio — you'll hear brass, keys, percussion, and guitar on their albums (Little Feat's Fred Tackett even pops up on their second grown-up record, Return of Dos Machos) — but the most important components of each song are Wiser's organ and Martin's drums, and even though you'll never mistake the Sugar Free Allstars for, say, Booker T. and the M.G.'s, they still offer quite a welcome respite from the glossy, compressed pop music that rules the airwaves.
That sound, coupled with Wiser's way with a tongue-in-cheek lyric, make the Allstars perfect for kids, something demonstrated by their two forays into the kindie market, the eight-song CD Dos Niños and the recently released DVD Gettin' Funky with the Sugar Free Allstars. Though their recordings are certainly professionally recorded, the band is decidedly indie; in other words, you shouldn't expect dazzling production values from Gettin' Funky, nor should you look for voluminous liner notes or award-winning artwork from their CDs. But what they lack in eye candy, they more than make up for in fun; like a funkier They Might Be Giants, the Sugar Free Allstars are a band that can please the kids in the audience while making honest-to-goodness fans out of their parents. Start gettin' funky with them today.