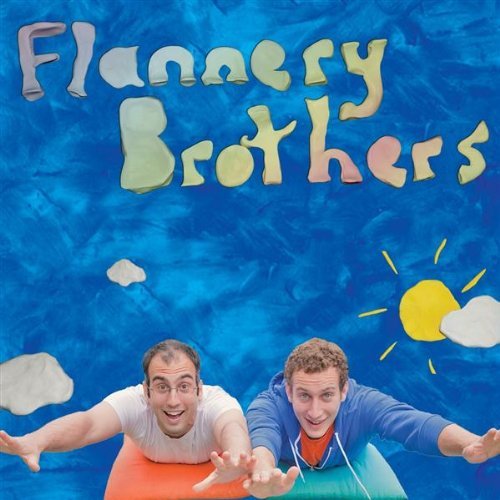 The Flannery Brothers – Love Songs for Silly Things (2009, self-released)
purchase from Amazon
I know we aren't generally in the habit of giving bad reviews here — if we don't think something is worth a dad's hard-earned time and money, we simply won't cover it — but the Flannery Brothers' Love Songs for Silly Things is a special case. As in an especially wonderful case. My house is a constant stream of kids' music, and my 3.5-year-old daughter has reached the point where she doesn't even bat an eyelash when a new CD or DVD arrives in the mail "for her." With all that entertainment going on, it's hard for one album to stand out, but Silly Things has done it, becoming an instant summer favorite for my daughter, my 21-month-old son, my wife, and even our visiting nephew, who turns 11 in September. Rare is the kids' CD that doesn't advertise itself as "fun for the whole family," but this one really delivers on that promise; my nephew spent the better part of a week singing the chorus of "Broccoli Yet" under his breath, and my wife yelled "I love that CD!" when she walked in and found me writing this review.
They aren't superstars (yet), but the Flannery Brothers aren't just favorites in my household; they've actually become something of a sensation in their native Maine, and have won awards from the International Songwriting Competition and the John Lennon Songwriting Contest. The recognition is richly deserved, because each of the dozen tracks on this album is a delightful blend of kid-friendly fun and smart pop songcraft. Titles like "Best Pillow in the World," "Rutabaga," and "Dilly Beans" promise supreme levels of silliness, and Silly Things does not disappoint; it's the kind of record made for long family car drives, and if your kids are anything like mine, they'll be singing along before they've finished listening to the songs for the first time (of what will be many, I assure you).
Unlike a lot of kids' records, Love Songs for Silly Things doesn't feel like a piece of product — Dan and Mike Flannery take obvious joy in their work, and it shines through every hook, line, and chorus of this independently released CD. I can't even get my daughter to stop listening to it long enough to give the new They Might Be Giants a spin with me. That pretty much says it all, doesn't it?