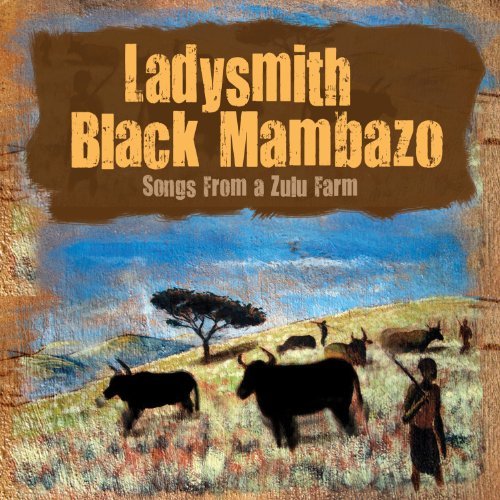 Ladysmith Black Mambazo has one of the most unique sounds in modern music — and also one of the most malleable, as demonstrated by a run of recent projects that has seen their traditional isicathamiya vocals blended with electronic textures (Chillout Sessions), the English Chamber Orchestra (No Boundaries), and a wide array of pop-star special guests (Long Walk to Freedom). All of these releases have their charms, but there's still nothing quite like the sound of the group's voices in their purest form, and their new album, Songs from a Zulu Farm, is a fitting return to basics.
I say "fitting" because Songs from a Zulu Farm is a children's album, at least nominally speaking; it's a collection of traditional songs that Ladysmith's members remember from their youth, and while they haven't released a single album that wouldn't be appropriate for kids — and while it's extremely unlikely your children will be familiar with songs like "Imbongolo" or "Ntulube" — there's an increased sense of the group's trademark childlike joy in these songs that culminates with the playful closing track, "Old MacDonald Zulu Style."
If your kids aren't accustomed to hearing vocal music, or lyrics they can't understand, they may approach Songs from a Zulu Farm warily. My daughter, for one, took awhile to warm up to it; at first, she just couldn't get past the fact that she didn't know what was happening in the songs. But she eventually came around, and that's part of what kids' music is all about — giving parents an opportunity to act as a gateway into new sounds for our children. All of what they hear doesn't have to be — shouldn't be — the stuff they're accustomed to, and often, as with Songs from a Zulu Farm, expanding their horizons helps reinforce the beautiful universality of the language of music. It's a journey we should all take more often.
Visit Ladysmith Black Mambazo's Facebook page to hear tracks from Zulu Farm, as well as watch videos (including the behind-the-scenes electronic press kit).
Related articles