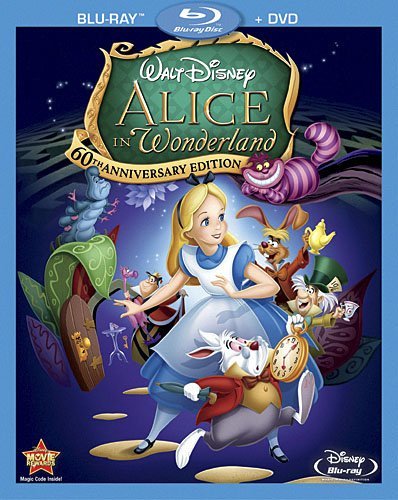 Alice in Wonderland: 60th Anniversary Edition (Disney, 2011)
Never one to let an anniversary pass without some sort of commemoration, Disney is celebrating Alice in Wonderland's 60th birthday by bringing its adaptation of Lewis Caroll's classic tales to Blu-ray for the first time. Disney aficionados will note with disappointment that Alice received a DVD upgrade last year (the appropriately titled "Un-Anniversary" edition) — a strange bit of rapid-fire double-dipping for a movie with a mixed legacy, to say the least. Is it worth owning again? Read on.
Synopsis: This Disney feature-length cartoon combines the most entertaining elements of Lewis Carroll's Alice in Wonderland and Through the Looking Glass. Chasing after the White Rabbit, who runs into view singing "I'm Late! I'm Late!," Alice falls down the rabbit hole into the topsy-turvy alternate world of Wonderland.
Video: Disney's cultivated a spotless reputation for its archival animated Blu-rays, and Alice in Wonderland continues that winning streak — whether or not you regard it as one of the studio's classics, it's never looked as good as it does here. This is arguably more important for a movie like Alice, where narrative structure takes a back seat to visual splendor, than it is for any of the studio's more highly esteemed films; this is the kind of movie where you just need to sit back and watch it without asking too many questions, and this new 1080p transfer makes it easier than ever to do so. Colors are brilliant, with inky blacks, and extremely minimal signs of Alice's age. Would that we all look so stunning when we're 60.
Audio: Disney has given Alice what it's calling an "enhanced home theater mix" in 5.1 DTS HD-MA sound — whatever that means. Just bear in mind that this is, after all, a 60-year-old film; the new soundtrack isn't as flat as older versions, but it isn't going to drop you into the middle of an (ahem) audio wonderland — it's the kind of thing you probably aren't going to notice much while you're watching the film, which is actually a pretty solid compliment. Disney has polished Alice's sound without going overboard.
Special Features: Quite a bit of the bonus content is ported over from the "Un-Anniversary" edition, all of which is presented in standard definition, but Disney has added some interesting stuff — most notably a rather exhaustive (and really pretty interesting) feature-length documentary, Through the Keyhole: A Companion's Guide to Wonderland, that you can watch separately or as a picture-in-picture track. Other new clips are sprinkled throughout the bonus features, including an HD live-action introduction filmed by Walt Disney in 1959, and a few very short odds and ends, such as a pencil test clip and some soundstage reference footage, presented with commentary from Kathryn Beaumont, who played Alice in the film.
Also of interest to hardcore Disney fans will be the ability to watch the film in "DisneyView" — in other words, with newly painted sidebars on the left- and right-hand sides of the screen. The artwork changes with the film, and if you've seen it put to use in previous Disney Blu-ray releases like Pinocchio and Snow White, you know it's a nice, subtle addition that helps compensate for the aspect ratio gap.
Bottom Line: Walt Disney struggled for years to bring Alice in Wonderland to the screen, and it's easy to see why — Carroll's story doesn't exactly lend itself to the film treatment. From a narrative standpoint, it's kind of a mess, and as a result, movie versions — including this one — tend to come across more as random collections of trippy vignettes than anything else. That's more or less the case here, and it's compounded by the piecemeal approach Disney took to making it; five directors had a hand in Alice, and the transitions aren't always seamless.
Still, if it isn't a classic, Alice in Wonderland is certainly an enjoyable piece of animation, particularly for fans of Disney's more avant garde efforts from the era. If you purchased the "Un-Anniversary" edition last year, it's hard to justify reinvesting in Alice, unless you really care about seeing it in true hi-def — but if you've yet to add it to your collection, this is definitely the version to own.
Related articles