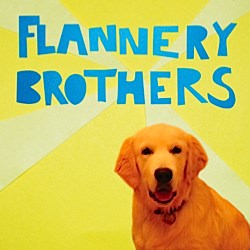 The Flannery Brothers' debut CD, Love Songs for Silly Things, was a big hit in our house last year, and when I heard they had another disc on the way, I was filled with the kind of anticipation I don't normally feel for Dadnabbit assignments. I mean, hey, I love kids' music as much as the next guy, but if I get an e-mail telling me I have a new children's CD on the way and something new from, say, K'naan or David Byrne…well, the kids' stuff can wait.
But as soon as I received my copy of Move Over Lullabies…It's Time for Wake Up Songs!, I tore off the plastic and put the disc in the CD tray. With the Flannery Brothers performing the songs, and a title like that, how can you go wrong?
Answer: You can't. Wake Up Songs is very short — the whole thing is over in about 15 minutes — but as advertised, it's a great way to start the day. Acoustic guitars, electric piano, and those Flannery harmonies come beaming out of the speakers, exhorting you to wake up, splash some water on your face, hop on your bike, and move your arms and legs.
(Good advice for parents as well as children.
) Nine times out of ten, a record like this would be stuffed with annoying, Spongebob-style hyper energy, but these are just fun, uptempo songs, warm and organic, and perfect for a dash of silly fun in the morning.
Play it while you're making breakfast for your little ones — twice in a row, even — and start looking forward to the Flannery Brothers' next full-length, already in the works.