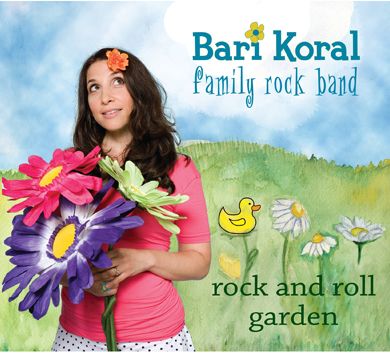 With oversized flowers and a watercolor painting of puffy clouds, daisies, and a rubber duckie on the cover, you might expect Bari Koral's full-length debut to be more than a little on the cutesy-poo side — and it is, ultimately, targeted mainly at the pre-K audience.
But the record's called Rock and Roll Garden for a reason: Koral and her Family Rock Band manage to tie together toddler-friendly themes (dinosaurs, colors, clapping) with arrangements that benefit from a surprising amount of genuine (albeit very gentle) rock 'n' roll bite.
The end result ain't exactly Joan Jett, but if you're a parent who's spent any time at all trying to find music that's aimed at your young children and isn't barf-inducingly patronizing, you know it's the little victories that count. And you can count Bari Koral and the Family Rock Band among the good guys: This is very kid-friendly, eminently danceable stuff, with the focus squarely on fun (listen to the mildly subversive "Backpack," pretty much a laundry list of things parents don't want going in there) instead of well-meaning attempts to teach listeners shapes or how to count. At 28 minutes, it's good for family car rides and living room dance parties, and you can never have enough music for either of those, right?