If you had to go away for awhile and you could only take five of your favorite albums with you, which ones would you choose? Yes, we know it isn't a fair question, but that hasn't stopped us from asking music fans who happen to be recording artists in their own right. This edition of Desert Island Discs comes courtesy of Danny Weinkauf, who released his frist solo record called No School Today. In short, the album is awesome. How does one, not love this?
You may not think you've heard music from him before, but that's probably not true. When he's not playing bass for They Might Be Giants, Mr. Weinkauf has written a boatload of music for too many companies to even list: Just read the bio on his website.
Now we turn it over to Danny…..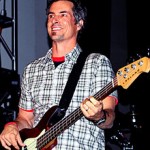 For someone who really loves music, the idea of having only 5 of your favorite albums to choose from seems a bit cruel. My guess is that there are certain albums that are just so beloved by most of us that they would probably show up repeatedly on these types of lists. For that reason I will not include All The Beatles albums, What's going on?, Innervisions, Kind of Blue, Axis bold as love, Hunky Dory, Quadrophenia, Court and Spark, Nevermind, Blood on the Tracks, A Night at the Opera, Good old Boys, Rain dogs, or Exile on Main Street on my list. See what I mean? That's about 20 albums right there and you want me to limit it to 5. That doesn't even include all the alternative stuff I'm not gonna put on my list like Radiohead, David Byrne, David Byrne and St. Vincent, David Byrne and Brian Eno, Sufjan Stevens, Cake, Beck, XTC, The LAs, Fountains of Wayne, Mike Viola, They Might Be Giants, TMBG, and They Might be Giants. Did I mention They Might be Giants? Too good for a list like this! Pheew, man this is tougher than I thought. How about a list of 5 albums that I really love that some people might not know are great? Here goes:
1. RAM – by Paul McCartney – my favorite of his post Beatles albums (I know, I know Band on the Run is pretty great too). From the rockers like "Too many People" and "Monkberry Moon Delight" though the multi-harmony beauty of "Dear Boy" and "Uncle Albert/Admiral Halsey". It's so melodic and natural sounding and his voice is at its best. As a bass player, Paul has always been one of my biggest influences.
2. Woodface – by Crowded House – I think it's hands down the best of this band that is incredibly famous in England, Australia, and their home New Zealand. Neil Finn is a fantastic songwriter with an amazing voice and is joined by his brother Tim on this album. The harmonies between two brothers really shine though. Any time my friends and I pull out our acoustic guitars you can be sure that we'll play "It's only Natural", "Fall at Your Feet", and "Weather with You" — all from this album.
3. Rockin' the Suburbs – by Ben Folds. A couple of years ago I decided that I wanted to significantly improve my piano playing skills. I spent many hours playing songs by The Beatles, Elton John, Randy Newman, and this Ben Folds album. When I first heard this album, I felt like Ben must have listened to a lot of the same music I did growing up. I could hear all kinds of influences that he managed to make his own and the piano playing was great and varied stylistically from track to track. I thought to myself, "If I can learn to play most of the songs on that album, I will be a much better piano player and will have a kind of vocabulary to pull from in my own writing." When I was writing songs for my album No School Today I started playing a piano part that reminded me of something Ben might play so I developed it and wrote the song "The Ballad of Ben" as a sort of "thank you" to him.
4. Brutal Youth – by Elvis Costello – Elvis is one of my songwriting heroes. He is so prolific, so melodic, and lyrically genius. This is probably not one of his most popular records but it has so many moments of truely great songs that I keep going back to it. "This Is Hell", "You Tripped at Every Step", "13 Steps Lead Down", and "Still Too Soon To Know" are the first that come to mind.
5. Best of the Four Tops – Ok, maybe it's cheating (ed. – it is, but we'll let it slide) to choose a best of collection but considering that these guys had their hits more than 50 years ago, when you go through their catalog many of the albums are "best of" collections. Here are the facts on this one: they had one of the greatest rhythm sections ever on their tracks. My favorite bassist James Jamerson and all the other Motown greats were their backing band. Levi Stubbs' sings so powerfully and soulfully on songs like "Bernadette", "Reach Out I'll Be There," "Walk Away Renee," "Standing in the Shadows of Love," and "I Can't Help Myself (Sugar Pie Honey Bunch)." I get excited just thinking about it.
Go find out more of what's in Danny's brain, right here: http://www.dannyweinkauf.com/