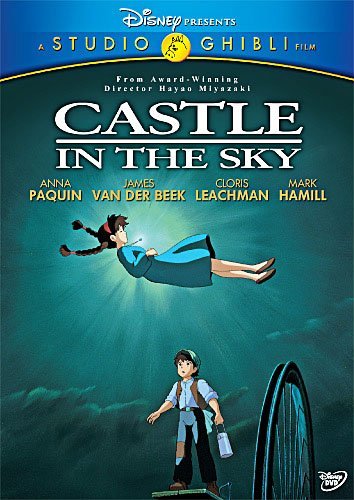 His name is spoken in reverent tones by animation lovers, but as far as the wider American marketplace is concerned, Hayao Miyazaki barely exists; his 2009 release, Ponyo, probably played to fewer theaters than the asinine Fly Me to the Moon, and Ponyo received far and away the biggest U.S. push of any film in Miyazaki's distinguished career.
Now that I've lamented Miyazaki's low commercial profile in the States, this is the spot where I'd traditionally take a shot at Disney and its marquee-crowding, female psyche-twisting princesses — but empires aren't always evil, and as a case in point, here's a lovely, Disney-sponsored series of Miyazaki reissues, crowned with Ponyo's Blu-ray debut.
If you've never watched a Miyazaki film, it's probably important to note that while not all of his movies are appropriate for young children, they're all childlike in some way; he tends to favor young protagonists, for one thing, and then there's the matter of his endlessly inventive cast of supporting creature characters. Watching a Miyazaki movie, you're never sure whether you're seeing the jaw-droppingly beautiful work of an unbridled genius or just the byproduct of an awful lot of drugs. Either way, they're all enjoyable — all classics in their own way. Now, on top of getting Ponyo on Blu-ray, consumers can own expanded versions of Castle in the Sky (1986), My Neighbor Totoro (1988), and Kiki's Delivery Service (1989).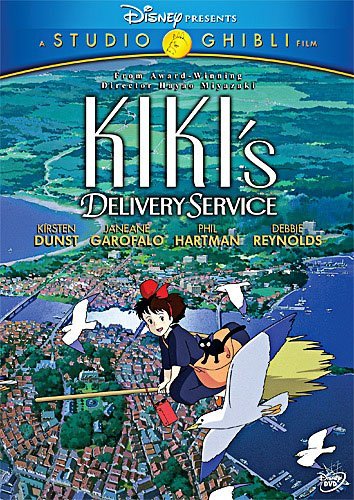 Castle was Miyazaki's third directorial effort, but his first with Studio Ghibli, the company he founded in 1985 — and the American version wasn't dubbed until 1998, with a voice cast that included James Van Der Beek, Anna Paquin, Cloris Leachman, and Mark Hamill. Sound confusing? Best not to think too much about the plot, which centers on a boy who spots a flying girl and ends up joining her on a quest to find a legendary floating castle, despite the efforts of air pirates, government spooks, and assorted other nonsense to get in their way. It has all the Miyazaki hallmarks — incredible kids, trippy visuals, and loads of adventure — although it's the only one of this batch to carry a PG rating, and is a little darker than the others; parents of very young children may want to watch it before deciding whether to share it with the brood.
Not so Kiki's Delivery Service, a wonderfully whimsical charmer about a young witch (voiced here by Kirsten Dunst) and her talking cat (a scenery-chewing Phil Hartman) on their quest to make it on their own. Questions of why a witch would need to open a delivery service to make ends meet aside, Kiki's is a thing of beauty, loaded with Miyazaki's trademark visuals and buttressed by resonant themes for kids — the challenges of growing up, the tumult of young love, the acute misery of peer pressure. And if that sounds like some pretty grown-up stuff, don't worry; my four-year-old watched it with my two-year-old next to her on the couch, and they were both thoroughly swept up in the movie — in fact, they watched it a week ago, and they're both still quoting the cat at least once a day.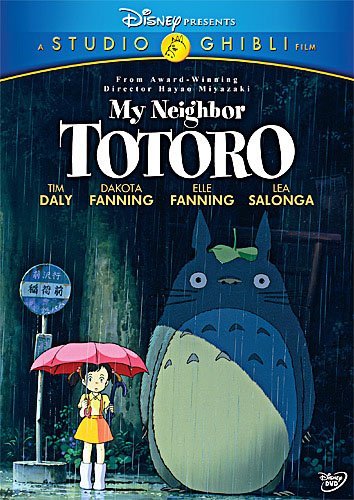 And then there's My Neighbor Totoro. I don't recommend skipping any of these, but if you only have time for one, make it Totoro — it stands alongside Princess Mononoke and Spirited Away as the crown jewels of his career, and since those two titles aren't part of this batch, Totoro gets the nod here. Again, on paper, the movie might not sound like much; it's the story of two young girls who move to the Japanese countryside with their father after their mom ends up in the hospital due to an unspecified sickness. The girls are understandably sad and freaked out — but luckily, their new home lies in the shadow of a giant tree occupied by Totoro, a huge forest spirit who looks like a cross between a rabbit and Grimace. Totoro can only be seen by the young, but he's got a lot of cool powers, including the ability to summon a giant cat/bus hybrid and the ability to sit on top of said tree with his smaller, yet equally rabbit/Grimace-like companions, tooting on shell-shaped flutes all night.
It's nutty, but it's beautiful, and believe me when I tell you your kids will never forget Totoro and his friends — and if you've got a shred of inner child left in you, you'll be caught up in the movie's magic, too.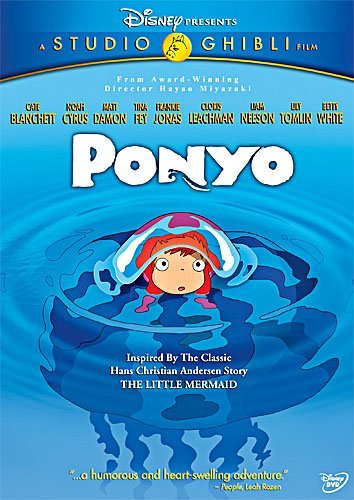 Ponyo was dismissed by a few critics as sort of lightweight for Miyazaki, and I guess it is — it's a brightly colored retelling of The Little Mermaid, without even the slight hint of danger alluded to in the Disney version, and its unoriginal origins, as well as Miyazaki's brighter-than-usual palette, created the impression the director was, ahem, treading water. I was charmed by Ponyo, though — and that's in spite of the fact that the lead characters are voiced here by Noah Cyrus and Frankie Jonas (in fairness, the voice cast also includes such major names as Cate Blanchett, Matt Damon, Liam Neeson, Lily Tomlin, and Tina Fey). Yes, you've seen this story told before, but believe me, you've never seen it quite like this — Miyazaki's hand-drawn animation is as amazing as ever, and the camera lingers pleasantly over every rich detail, from the eye-popping splendor of giant floods and magically expanding toy boats to the dazzling underwater world.
In Miyazaki's version of the tale, Ponyo gets her name from Sosuke, a boy who discovers her in goldfish form, trapped in a bottle in a tidepool. After he rescues her and brings her home, they develop a bond, complicated by Ponyo's ingestion of Sosuke's blood (long story), which causes her to develop human attributes…and leads to Ponyo accidentally triggering an imbalance in the fabric of the universe, or something. As always, whether or not the storyline makes strict sense isn't as important as how the movie feels when you're submerged in it; Miyazaki intended Ponyo to be an extremely kid-friendly movie, even more so than Totoro, and he succeeded. As with Kiki's and Totoro, I watched Ponyo with my kids, and they fell in love with it right away.
All four of the Ghibli/Disney titles in this series come with bonus features that give viewers the opportunity to take a more in-depth look at Miyazaki's world, including "The World Of…" featurettes that incorporate virtual tours of each movie's locations and behind-the-scenes interviews detailing their inspiration, as well as new introductions and storyboard presentations. None of it's really necessary, but the Miyazaki footage is always a treat — he seems like the kind of guy it'd be fun to have a beer with, even though you can't understand a lot of what he's saying. Bottom line: I guarantee there are four movies in your child's library that are less deserving of ownership than these, and if you or your kids have any kind affection for the art of animation, you owe it to yourself to experience them. You will not be sorry.