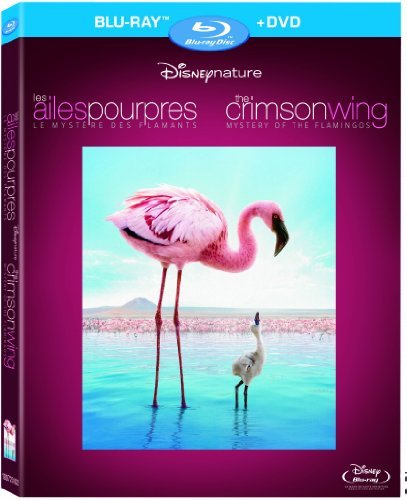 The Crimson Wing (Disneynature, 2010)
Good for more than just prettying up Christopher Cross album covers, the flamingo is a fascinating creature that rarely gets its documentary due — but all that has changed with Disneynature's The Crimson Wing. Don't believe flamingos can hold your attention for 78 minutes? Turn on your hi-def set and prepare to get pink.
Synopsis: Discover one of nature's last great mysteries in The Crimson Wing, a miraculous story of love, courage and survival from Disneynature, the studio that brought you Earth. In a place like no other on the planet, the dramatic and desolate Lake Natron in northern Tanzania, you'll witness a spectacle unlike anything you've seen before: a million crimson-winged flamingos arrive to continue the circle of life. Focusing on the adventures of a single chick set against a backdrop of never-before-filmed landscapes, The Crimson Wing is a visually stunning journey into the life and struggles of the mysterious and inspiring flamingo. Video: You can't have a nature documentary without spectacular visuals, and The Crimson Wing's 1080p transfer brings it to home theaters in all its brilliant glory. This is a movie about thousands upon thousands of birds, so there's often an awful lot to take in on the screen, and there are moments when the picture can't quite keep up — but the errors are slight, and really, unless you're looking for flaws, you'll be too busy gaping at the screen to notice.
The colors are rich, the contrast is clear, and the details are crisp; The Crimson Wing is a feast for the eyes.
Audio: This isn't exactly Shark Week, so don't expect a lot of booming action, but the DTS-HD Master Audio 5.1 soundtrack has plenty of dynamic range, and a fine balance between the birds and the score (supplied by something called the Cinematic Orchestra).
The Crimson Wing is definitely toward the slower, more contemplative end of the nature documentary spectrum, and the soundtrack is a fine companion — absorbing, but never showy or distracting.
Special Features: Most movies of this sort don't include a whole lot in the way of bonus content, and Crimson Wing is no different; the only really substantial features are the "filmmaker annotations" track, which adds pop-up/picture-in-picture content like trivia and interviews to the film, and five brief featurettes (all together, they add up to about 20 minutes in length). The rest of the special features are basically throwaway stuff, like a screensaver and trailers for other Disney films; having said that, Wing does pack in a DVD copy of the movie, which is always a great added value, especially for family titles like this one.
Bottom Line: Parents of young children will likely be of two minds about Crimson Wing — on one hand, it's great to see Disney reviving the nature documentary tradition they established with their True Life Adventures series decades ago; on the other hand, this is a deceptively dark and violent film for a G-rated feature. Personally, I think it's important for kids to understand the violence of nature — but even for sensitive adults, there are some parts of this movie that will be difficult to watch, like the scenes of baby flamingos being hunted by storks or struggling under the weight of salt spurs. As with anything else, you should either watch it first or watch it with your kids; don't trust Disney to do your babysitting for you.
All that said, though, this is an excellent documentary, unusually thoughtful and stunning to look at in the bargain.