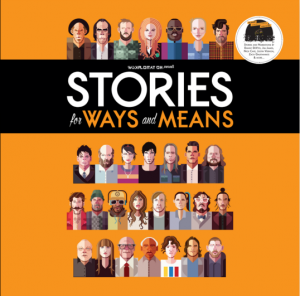 While the full Record Store Day list hasn't been released yet, news on RSD releases continue to trickle out.
Waxploitation Records founder Jeff Antebi asked artists from music & art to collaborate on original children's stories for a benefit project. The book includes stories from Nick Cave, Frank Black, Justin Vernon, Laura Marling, Devendra Banhart, Alison Mosshart as well as paintings/illustrations from Anthony Lister, Dan Baldwin, Swoon, Will Barras, James Jean, Ronzo, Kai & Sunny, and others.
Not to be content with just creating the book – On April 22nd, it will be available on 12" colored vinyl. There will only be 2,000 made available. (so, arrive early to your favorite record store)
Nick Offerman reading a Justin Vernon story? Danny Devito reading Frank Black? Count me in.
Track List
Side A
1. The Next Big Thing by Gibby Haynes (Excerpt Narrated by Zach
Galifianakis)
2. Doug the Bug by Frank Black (Narrated by Danny Devito)
3. The Old Oak Tree by Laura Marling (Narrated by Lauren Lapkus)
4. Fishing with Music by Amadou Bagayoko (Narrated by D.R.A.M.)
5. Right on Rosie by Spencer Krug (Narrated by Spencer Krug)
6. Me and Matt's Golden Husks by Justin Vernon (Narrated by Nick
Offerman)
Side B
1. The Chickadees of Highway 3 by Jason Lytle (Narrated by Jason Lytle)
2. Penelope and the Succulent by John Vanderslice (Narrated by Lauren
Mayberry)
3. La Bañerita by Devendra Banhart (Narrated by Lizzo)
4. A Boy Named Tim by Elliphant (Narrated by Kumail Nanjiani)
5. How to Escape from a Wasp by Micachu (Narrated by King Krule)
6. The Lonely Giant by Nick Cave (Narrated by Andre Royo)
7. The Very Tall Tree by Gary Numan (Narrated by Gary Numan)
8. Marglytta (Jellyfish) by Örvar Smárason (Narrated by Örvar Smárason)
9. Little Hollywood by Satomi Matsuzaki (Narrated by Satomi Matsuzaki)
10. Wishing Well Fountain by Alison Mosshart (Narrated by Alison Mosshart)
11. Oslo and Plum by Jim James (Narrated by Phil LaMarr)
Here's a teaser for you: