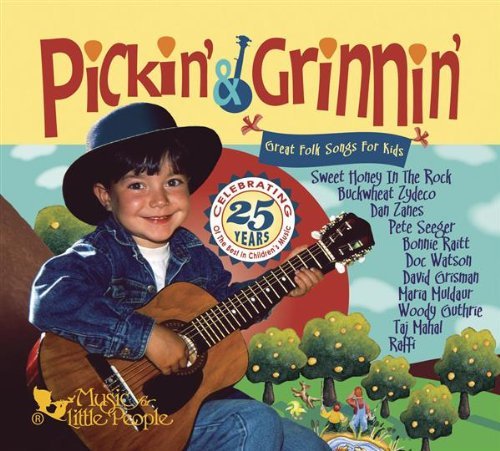 Music for Little People turns 25 this year, and they're celebrating by releasing a pair of compilations that reflect their quarter-century dedication to helping parents entertain kids: Pickin' & Grinnin': Great Folk Songs for Kids and Love & Peace: Greatest Hits for Kids. Between them, you get 32 tracks from a pleasing variety of performers from across the kids' music spectrum, and though they're arranged thematically, both collections are similar enough — and they both include songs from so many talented artists — that either one will suit pretty much any family mood.
Both compilations include a number of kiddie giants — Raffi, who I hate, pops up on both of them — but you can expect plenty of surprises, too. Buckweat Zydeco and Bonnie Raitt appear on Pickin' & Grinnin', for instance, and on Love & Peace, you'll hear Faith Hill, Sheila E., and AC/DC's Brian Johnson (the latter popping up, along with some kids, on a sweeter-than-you'd-expect version of "If I Had a Hammer").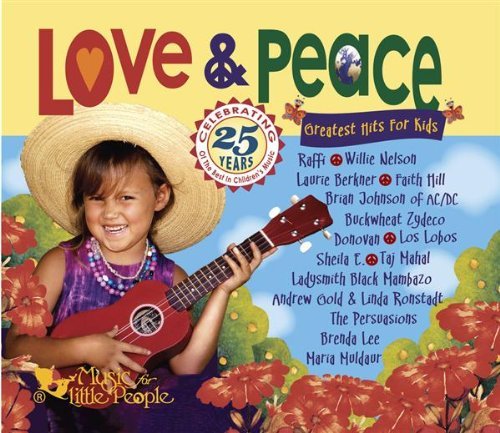 All in all, it's really entertaining stuff, and although the current age of mp3s, iPods, and burned CDs has left us less reliant than ever on label-curated compilations, both Pickin' & Grinnin' and Love & Peace are perfect for keeping handy in the car for long family car rides. They're also great for educators (as my kindergarten-teaching wife can attest), or anyone who finds themselves responsible for wrangling a group of little people. You could seek most of this stuff out on your own, but really, any albums that collect songs from Taj Mahal, Pete Seeger, Ladysmith Black Mambazo, Los Lobos, Maria Muldaur, Dan Zanes, Woody Guthrie — and many, many more — are worth celebrating, aren't they? For any parent who's building a kindie collection, these two CDs are a splendid way to start, blending time-tested classics and new favorites with style. Wonderful, just wonderful.