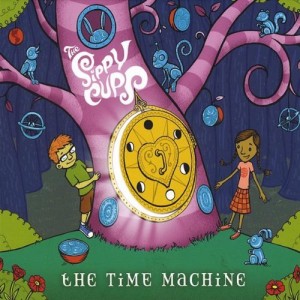 The Sippy Cups: The Time Machine (2009, Snacker)
purchase this album (Amazon)
While San Francisco-based children's band the Sippy Cups might at times remind you of the quirky and energetic B-52's, there is no doubt that they know how to take their own experiences as parents and turn them into some of the catchiest kids' fare you'll ever hear. The Sippy Cups' latest, The Time Machine, is symbolic in more ways than one, as they claim that their sound has matured right along with most of their listening audience—and they also tried to convey the message of growing up and all that goes along with growing up, and how it should be fun, to their young fans.
For example, the topics include personal experiences such as losing teeth ("Loose Tooth"), or having fun with math ("Seven is the New Fourteen"). The title track sounds like it could be the theme song for a TV show, and "Don't Remove the Groove," a song about making everything you do musical, is catchy and funky in a retro disco sort of way. And the crunchy guitars and sugary harmonies on "My Angry Voice" should teach kids about both keeping your anger in check, and about channeling it into a rocking song.
While The Sippy Cups might appeal to kids that are beyond toddler age, their latest is something that parents should have no trouble getting into as well. And haven't you had enough of The Jonas Brothers anyway?