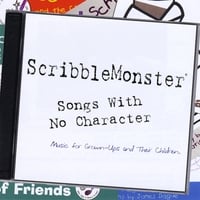 ScribbleMonster – Songs with No Character (ScribbleSongs, 2008) purchase this album (CD Baby)
Boasting "more musical variety than a classic K-Tel record," Chicago's ScribbleMonster — guitarist and singer James Dague, drummer Brett Goral, bassist Brian Hufnagl, and vocalists Jayne Sniat and Joyce Stuart — dispenses with the goofy character voices (sorry, ScribbleCharacter voices) for its just-released third album, the appropriately titled Songs with No Character. Having never listened to any of the band's other work, I can't vouch for how it holds up against previous releases, but as a stand-alone collection, this 14-song CD does everything you want a kids' album to do — namely, make the little ones happy while reinforcing a positive life lesson or two.
As is the case with most albums that go over 10 songs, Songs with No Character can get a little dodgy in spots, a problem that can be traced in this case to the band's efforts to cover an array of genres and styles in an effort to reach parents as effectively at kids. To their credit, they do manage to hit their targets more often than not — "With a Smile," for example, is pure loveliness, and the kind of hopeful, happy music you can listen to with your kids all day long — but tracks like "Scratchy Records" and "No Good Can Ever Come of a Sleepover" are more likely to provoke shrugs than laughing or dancing.
Still, all in all, Songs with No Character does an excellent job of giving different age groups something to listen to — sometimes within the same song, as with the chunky rockers "I'm a Utility Pole (The World's Worst Dance Song)" and "Spare the Rock, Spoil the Child" — and deserves space on your shelf alongside fun-for-the-family titles from bigger names like Dan Zanes, Barenaked Ladies, and They Might Be Giants. In fact, if I hadn't received it too late for my 2008 Fids and Kamily ballot, I'd have included it among my nominees for children's album of the year.