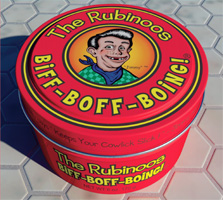 Here, power pop fans, is what They Might Be Giants hath wrought.
The Rubinoos have been around for decades, making solid records to tons of critical acclaim and little in the way of sales — a situation not unlike the one TMBG found themselves in when they decided to make the jump to the kids' market, a.k.a. "paydirt." This is not to say the Rubinoos' debut children's CD, Biff-Boff-Boing!, is a crass, commercially oriented move — just that, like TMBG, the Rubinoos are so ideally suited to younger audiences that you can't help but wonder why it took them so long to get here.
The Rubinoos have always occupied a spot on the more candy-coated end of the power pop spectrum, so they're a more natural fit than, say, Cheap Trick; their music has never had much of an "adult" edge anyway. (This is, after all, the group that recorded "I Wanna Be Your Boyfriend.") What this means for Biff-Boff-Boing! is that it doesn't always feel appreciably different from anything else in the band's catalog — and that's a compliment. For instance, the opening track is a kazoo-and-children's-choir-assisted cover of "Witch Doctor" that's all kinds of awesome, because the band consists of seasoned professionals who both know how to play and have a deep understanding of this type of music. They aren't playing it because it's silly and they think that's what kids will like; they're playing it because this is what takes them back to their own childhoods, and it's fun for them. It's a crucial difference — it's why Boing! includes covers of "Sugar Sugar," "Peanut Butter," and "Boris the Spider" (along with the more obscure but still terrific "Rockin' in the Jungle"), and it's why those covers are fun instead of obnoxious. These guys get it.
Of course, it isn't like "it" is rocket science; that's part of what makes so much children's music such a drag — too many performers waste time pandering when all they need to do is play music that anyone can enjoy. They may throw in a few too many silly voices for your liking, but for the most part, "music anyone can enjoy" is exactly what the Rubinoos serve up here.
If you're a longtime fan of the band, Biff-Boff-Boing! is the perfect gateway for your little ones. Six months from now, play 'em the band's first two '70s records; for now, shake the car with a family dance to "Dumb It Down" and "You Can't Roller Skate in a Buffalo Herd."