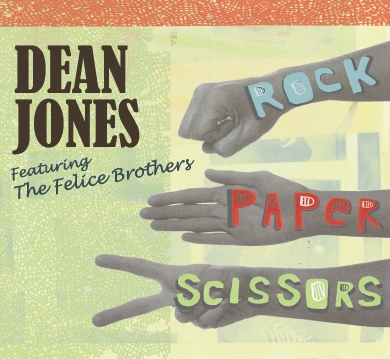 Man oh man oh man. Why can't they all be this good?
Not only my favorite kids' album of the year but one of my favorite releases period, Dean Jones' stellar Rock Paper Scissors is everything children's music should be: A wonderfully easy-to-listen-to collection of songs that, while childlike in their lyrical simplicity and musical exuberance, still hum with a wild and woolly grown-up rock 'n' roll spirit. It's one long, joyful noise, this album is, and having spent enough time with it to allow the initial euphoric rush of hearing it to wear off, I can safely say it's my favorite kids' record ever.
A big part of this has to do with Jones' choice of backing musicians. At his day gig, Jones is a member of the highly regarded kindie outfit Dog on Fleas, and he doesn't seem to take his solo efforts lightly — his first one, Napper's Delight, is a wonderful collection of lullabies, and this time out, he teamed up with the Felice Brothers, Catskills-bred purveyors of gloriously ragged, Band-esque Americana. The Felice Brothers have a wonderful sound, and having seen them play live and truly unplugged, I can say with authority that they're the real deal — but they have an annoying tendency to devote large chunks of their albums to listless ballads instead of the sweaty, moonshine-flavored uptempo numbers that are their true strong suit. Here, you get the benefit of the Felice Brothers' terrific sound without having to contend with their occasionally frustrating songs; Jones uses them as a crackerjack backing band, leading them on a pleasantly off-kilter hootenanny.
You know what you're in for from the first track, the shoutalong "Hail!
Hail! The Gang's All Here," a perfect 1:45 celebration of the world's marvelous unpredictability ("life is just a gamble, livin' in the brambles").
It's a tough act to follow, but Rock Paper Scissors does it in style, with songs jazzy (the title track), funny ("Butterfingers"), heartbreakingly beautiful ("Sing Like a Sparrow"), and everything in between ("Throw on the Charm," "Flat Tire"). Jones' press kit describes the album as "18 songs of fun and mayhem," and I can't think of any better way to sum it up, with the possible exception of simply telling you to buy it.
Immediately. You and your kids will not be sorry.