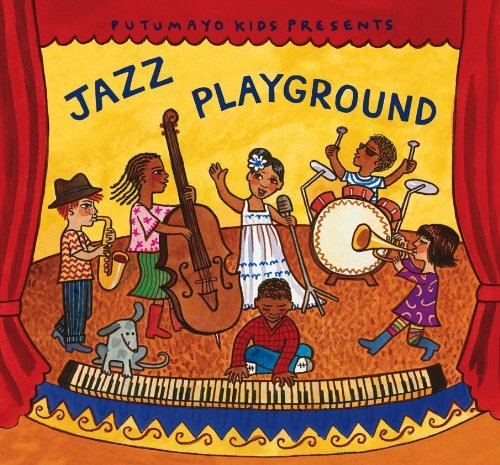 You know that movie If It's Tuesday, This Must Be Belgium? Well, in my mailbox, if it's Tuesday, it must be Putumayo.
While the rest of the recording industry folds in on itself like a coke-dusted origami, Putumayo is apparently making out like gangbusters, because they've released approximately 400,000 CDs of world music for all occasions; I keep waiting for the day I open a Putumayo envelope to find Music for When You Want Dessert Before Dinner or Swinging Songs for Young Lovers.
Until then, here's Putumayo Kids Presents: Jazz Playground, and although I enjoy teasing Putumayo — and saying the company's name out loud, then giggling — I can't pretend this 13-song collection isn't yet another winner from the label. You might think world music compilations for kids would be dry, but Putumayo doesn't take the Lomax approach; Jazz Playground, like the others in the series, takes a fun, lighthearted approach, and if you're interested in exposing your kids to the music of other cultures, I can't think of a more painless way of doing it. These songs draw from across an admirably broad spectrum (Canada, Japan, the Netherlands, and South Africa are just a few of the nations represented), but it feels more like a really cool mixtape than an education.
(Case in point: Canadian artist Chris McKhool's contribution is a jazzy rendition of the "Spider-Man" theme.
)
If you're anything like me, you tend to raise a skeptical eyebrow at anything that bills itself as a collection of "cool tunes for global kids," but I've given up; resisting Putumayo's endlessly listenable, artfully compiled CDs is futile. In fact, I think Jazz Playground might be my favorite yet. Bring on World Bathtime Party and Jazz Fingerpainting Anthems, guys — I'm beginning to think you can do no wrong.