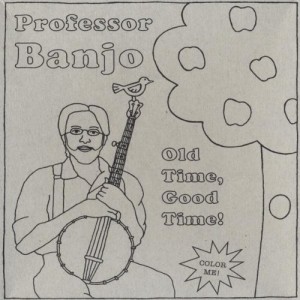 While I sort of doubt he has an actual degree in banjology, you've got to hand it to Professor Banjo for truth in advertising. His 16-track Old Time, Good Time! delivers exactly what you'd expect: a guy, a banjo, and plenty of old-timey songs, like "Shortnin' Bread," "Jordan Is a Hard Road to Travel" (weirdly shortened here to "Jerdin," but whatever), and "All the Pretty Little Horses."
The packaging is also every bit as basic (and basically awesome) as the musical contents — the disc comes in a black-and-white cardboard case that says COLOR ME! on the cover, a winking nod to the days when these songs were originally popular, a time when families would sit around their parlors and sing the hits of the day themselves rather than streaming them to their AirPlay-enabled devices. (Of course, the album is also available as an MP3 download, but you get the point.
)
The Professor (a.k.a. Paul Silveria) won't win any awards for his vocals, but that's part of Old Time's charm — this is one-take, rough-hewn stuff, meant for clapping and singing along to, beautiful in its stark, uncommon simplicity. If your kids love Pete Seeger (and if they don't, you aren't doing your job), here's another perfect addition to the family music library.