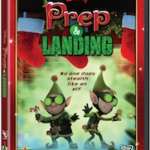 This holiday season lacks original Christmas programming. It's either a repeat from 1977 or a holiday spinoff of a popular movie from 10 years ago.
Thankfully Prep & Landing is neither one of those.
Though it originally aired in 2009, it's the exception to the rule. Entertaining for both kids and parents, I liked it when it first aired and my daughter has loved watching it ever since the DVD arrived. It's a cute and clever addition to television's holiday arsenal.
The story revolves around Wayne (Dave Foley from Kids in the Hall, Newsradio) and his colleague Lanny (Derek Richardson) as they prepare houses for Santa's arrival. Unfortunately things turn bleak and the duo face Christmas being canceled. Thankfully through some good old-fashioned teamwork, Wayne and company are able to save Christmas.
In addition to my daughter loving it, Prep & Landing also won an Emmy® Award in 2010 for Outstanding Animated Program, an Annie Award in 2010 for Best Animated Television Production plus a Visual Effects Society Award in 2010 for Outstanding Visual Effects in a Broadcast Miniseries, Movie or a Special.
As good timing would have it, a brand new Prep & Landing: Naughty vs. Nice, will air on ABC tonight, Dec. 5 at 8:30 p.m. (7:30 p.m. central).
Bonus material on this DVD includes a short with Betty White as the voice of Mrs Claus. There are also bonus "training videos" the elves have to watch. Every single parent who has ever had to sit through one of those videos will greatly enjoy them.
Details:
Release Format:1-Disc DVD
Feature Run Time:  22-minutes
Rated: TV-G (bonus material not yet rated)
Presentation: 16×9 Widescreen
Audio & Languages: English 5.1 Dolby Digital, French Canadian 5.1 Dolby Digital, Latin Spanish 5.1 Dolby Digital
Subtitles:  French & Spanish