The kindie scene is full of artists who don't get the kind of recognition they deserve, but of all the names I frequently share with parents looking for good family music, Heidi Swedberg's is the one that most often receives a quizzically raised eyebrow in response. And the thing is, you may not think you know who she is, but you do — at least, if you were one of the millions of people who watched Seinfeld during George's doomed courtship with his frequently exasperated fiancee Susan, who famously expired after licking poisoned envelope glue. Susan was Heidi.
These days, Heidi is doing something completely different: taking her ukulele (a whole bunch of ukuleles, really) on the road for a series of teaching clinics where she shows people just how easy it is to start making music of their own. Heidi's debut CD, Play!, has been a favorite in our house for months, and with Heidi about to play Kindiefest — and spread some of her ukulele magic with a Haitian orphanage — we decided now would be the perfect time to catch up.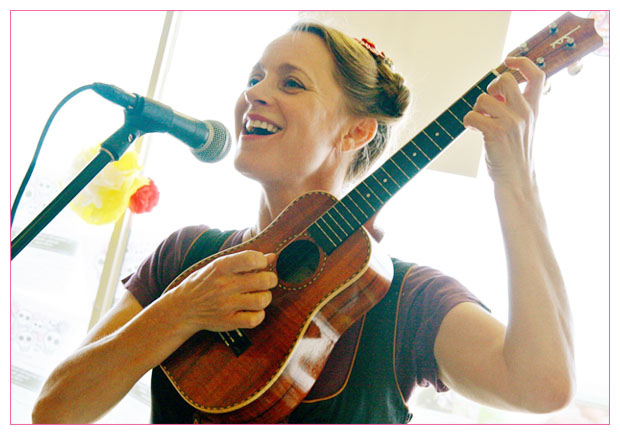 All the artists I talk to have had some sort of journey to the kindie world, but it seems like yours was more interesting — and unexpected — than most. Let's start by talking about how you got here.
Yeah, you know, I grew up with music in my life. Everyone in my family was musical, and I have one sister who is a musician. We all sang together all the time — in the car, everywhere. I think that's part of how you keep four girls busy without spending any money. [Laughter] It sort of organized the din, I suppose. So we all grew up making music, and since we lived in Hawaii, we all had ukuleles — but they were just kind of around. I think I learned five chords, and it was part of the thing, but I was really interested in acting, and that was the direction I took until after my kids were born. Then I started having fun and playing again.
This is what I love about kids' music and teaching — I teach a lot of early childhood classes for music — which is that when we reach adulthood, we tend to leave music behind. You're in band or choir when you're younger, but then you go out into the "real world," and you leave performing to the professionals. You don't make your own anymore. Until you have a kid, and then it's all okay again, and the fact that you don't have a great voice doesn't matter. A window opens up, and it opened up for me in such a way that…I never felt like I have a beautiful voice, and I don't. I have an acceptable voice, but it isn't so good that people feel like they can't sing with me. It's accessible. Continue reading →