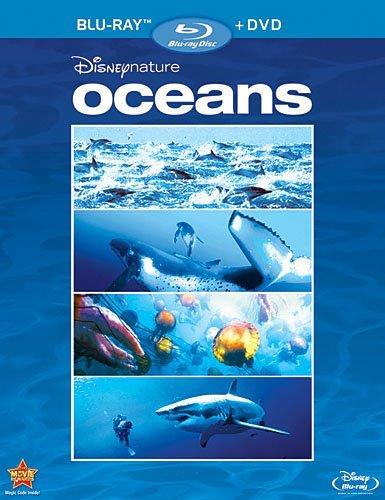 Oceans (Disneynature, 2010)
We seem to be living in an unusually prolific time for nature documentaries — I think this is the third underwater doc I've reviewed for Dadnabbit in the past year or so — but who's complaining? We know next to nothing about the world around us, particularly the ocean, and between filmmaking innovations and the advent of hi-def home theaters, exploring the planet from the comfort of your couch is more fun than ever. For their follow-up to Earth, Disneynature decided to plunge into the sea with directors Jacques Perrin and Jacques Cluzaud, and the movie they fished out — the appropriately titled Oceans — is another worthy addition to your HD wildlife collection.
Synopsis: Disneynature, the studio that presented the record-breaking film Earth, now brings Oceans to the screen. Nearly three-quarters of the Earth's surface is covered by water, and Oceans boldly chronicles the mysteries that lie beneath. Directors Jacques Perrin and Jacques Cluzaud dive deep into the very waters that sustain all of mankind –exploring the playful splendor and the harsh reality of the weird and wonderful creatures that live within.
Featuring spectacular never-before-seen imagery captured by the latest underwater technologies, Oceans offers an unprecedented look beneath the sea in a powerful yet enchanting motion picture. Continue reading →