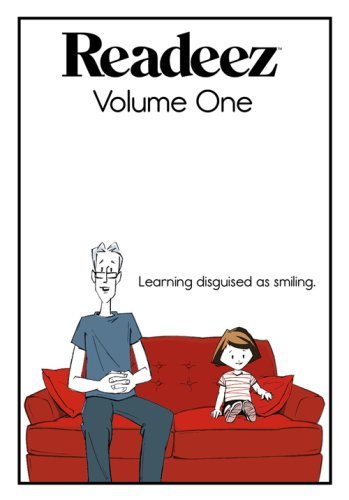 If you've been reading Dadnabbit for any length of time, you know how much we love Readeez — and with the debut of Omneez, a new line of Readeez for your computer or mobile device, we decided now would be the perfect time to sit down for a chat with Michael Rachap, the voice of "Julian Waters" and the mind behind all that bite-sized educational goodness. Here's a look back at where the series came from, where it's headed, and more…
I think we should probably start by talking about Readeez.
One of my favorite topics!
What gave you the idea to take this approach to creating children's media?
I wish I knew. There was an evolution. I'll tell you the way it didn't start — with me saying, "I'd like to teach children to read." It actually had to do with one of my poems — I've been a musician all my life, but I hadn't really recorded anything that was worth putting out there, so it started with words. "In the beginning, there was The Word." (laughs)
I found a tape of myself playing music on a cable access show that my friend did, and I read a couple of poems and mentioned that I really love the way words look on the page — typography, you know, playing with the prosody, the form. I guess it really started from there — from visualizing poems. It didn't take long to get from that to visualizing music.
Around '99 or so, I walked away from my career in copywriting and went to the Berklee College of Music, and now this is what I do: I write and record songs. One of the things about Readeez is that they're stealth delivery mechanisms for my songs — I'm a studio guy more than a live performer, and this is another way for me to get my music out there. Continue reading →