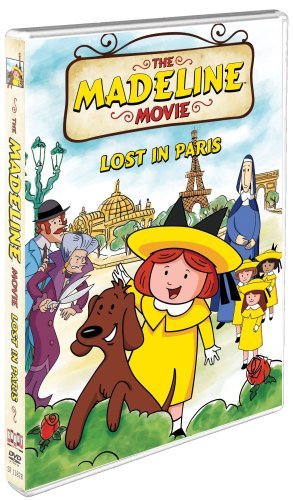 Here's a delightful film I've been aware of ever since it was released back in 2001. Back when my daughter was 3 and 4, she watched our VHS copy of Madeline: Lost in Paris so many times the tape began to wear out. Eventually she moved on to other things and the tape was placed in a box, in the garage, where the videotape is probably brittle and worthless by now. No worries, though, because Shout! Factory has just released this splendid animated feature on DVD.
Madeline: Lost In Paris a sweet, innocent film that parents and kids can sit through together. It features Christopher Plummer's warm voice as the narrator, Jason Alexander as the male villain, Horst, and Lauren Bacall and the villainess, Madame Lacroque.
The plot is something right out of a turn of the century adventure story. Madeline, the spunky orphan girl who lives in a big house with eleven other girls and Miss Clavel, their teacher, receives a letter from a man claiming to be her long lost Uncle Horst. He comes to Paris to whisk her away with him to attend finishing school in Vienna.  Although saddened to be leaving her friends and Miss Clavel, Madeline is very excited to have a family. Madeline and her loyal dog, Genevieve, go away with Uncle Horst.
All is not what it seems, though, and Madeline learns this right away when Uncle Horst leaves Genevieve to fend for herself in the Paris train station and Madeline is kidnapped! Uncle Horst is not her uncle at all. He's a scoundrel who takes orphans to work in forced labor creating delicate lace collars under the strict supervision of Madame Lacroque.
WOW! If you went by that description alone, you'd be horrified about this film. However, like any Dickens novel (which always seemed to have kids in peril), Madeline: Lost in Paris uses a light touch to keep the horrific conditions and the scary situation not so horrific and not so scary. Moreover, Madeline is such a brave little girl you don't believe for one second that she's going to remain trapped, nor will she allow her new friends, all of the other kidnapped children, to stay under the cruel care of Madame Lacroque.
Meanwhile, Genevieve returns to the school, signaling to Miss Clavel and the other girls that Madeline is in trouble. Immediately Miss Clavel goes to the police.
At the same time the little girls and their next-door neighbor, Pepito, set off to save Madeline. Again, a light touch is used and you never get the sense that any of these kids are ever truly in danger.
The film moves briskly and is full of vibrant colors. Seeing a digital copy of the movie for the first time really made me realize how awful our VHS version was back in the day. It's also wonderful to see a hand drawn animated film that doesn't appear so cookie cutter like most of the shows you see on television. The backgrounds are all painted to look like watercolors and the character animation is quite fluid. The filmmakers really captured the feeling of the drawings from the original Madeline books. All of the actors are excellent.
It had been at least seven years since I last saw Madeline: Lost in Paris and I was curious how my daughter would react when she watched it with me. It was wonderful to sit down with her again, and with my younger son, and relive some old memories. Although she seems to have outgrown the age group of this movie, she still enjoyed it after all of these years. Madeline: Lost in Paris is a gentle and kind film that fits in nicely with all of the other movies you may own that have been produced by Disney, DreamWorks, Pixar or Nickelodeon. I highly recommend it for little girls (and boys) and I'm very glad it's found a home on DVD through those good folks at Shout! Factory.  Although there are no bonus features, the movie is reason enough to make this purchase.