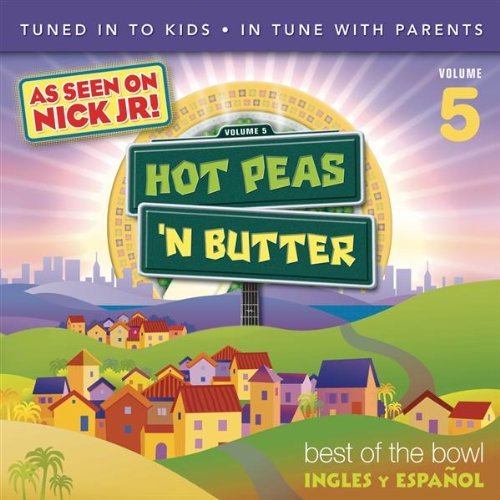 Hot Peas 'N Butter – Best of the Bowl, Ingles y Español (2009, self-released)
purchase from Amazon
Bailando!
As you might guess from the big "volume 5" slapped on Best of the Bowl's artwork, Hot Peas 'N Butter have been around for awhile — in fact, their bilingual music should be familiar to anyone who spends time on the Nick Jr./Noggin end of the TV dial. They've certainly earned enough success to pause for a reassessment of their most popular material, which is exactly what co-founders Daniel Lapidus and Francisco Cotto do here, re-recording 11 favorites that, in the words of Lapidus, "are the songs that audiences ask for over and over again.
"
Even for Hot Peas 'N Butter novices, it shouldn't be hard to hear why the band's fans love these songs — they're deliciously fun, danceable pan-cultural blends, and whether or not you live in a bilingual house, or are interested in exposing your children to world music, you should find Best of the Bowl wonderfully, instantly addictive. And if you do happen to be raising a miniature army of merengue listeners, well…it's hard to imagine a better album to share with your kids this fall. To sample music, videos, and more from the band, visit their website — just be prepared to stay awhile, and probably spend some dinero while you're there.