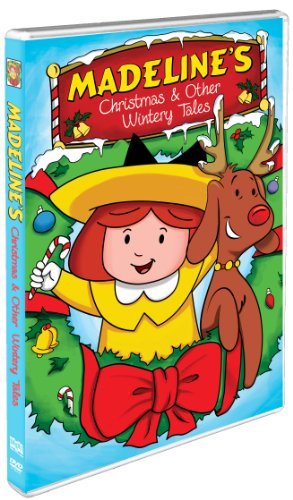 If you're burned out on all the traditional children's holiday fare, Shout! Factory has a cure for what ails you: 110 minutes of yuletide adventures from everyone's favorite Parisian kid-lit superstar.
Aside from a few random samplings of the books, I'm not all that familiar with the Madeline franchise, but my daughter is currently deeply in love with Madeline's Christmas and Other Wintery Tales, and I'm totally okay with that. From a technical or storytelling standpoint, there's really nothing special about any of these five segments, but the Madeline cartoons have a quiet, medium-paced charm that's hard to resist; they aren't loud or in your face, they're just pleasant stories about pleasant girls who occasionally face relatively minor obstacles. That may sound dull, and really, Madeline isn't for everyone. But for kids like my daughter, who loves musicals and dreams of living the life of a princess, they're pretty perfect, and I really appreciate the decaffeinated storylines, which hew closer to the cartoons of my youth than the Day-Glo CG nightmares running 24 hours a day on Nick Jr.
Like the DVD case says, these are all holiday-themed stories, four culled from the more recent New Adventures of Madeline and one from the original series. There's an obvious difference in the animation quality, but it isn't jarring, and the overall tone of the stories is consistent — basically, Madeline and her schoolmates face a Christmas problem at the beginning of each episode (No snow!
Quelle horror!), and 20 minutes or so later, everyone's happy.
Madeline gets snowed in, she meets Santa, she wants to be a champion ice skater…it's all pretty mild stuff, but utterly absorbing for kids in the right demographic, and if you're anything like me, you'll welcome their calm cheer with open arms.