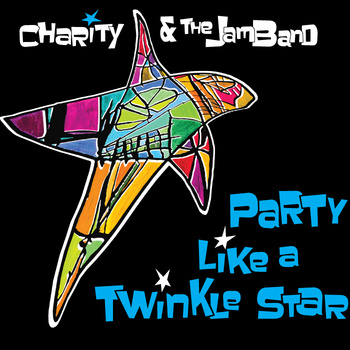 Most kids' music doesn't exactly sit at the compositional vanguard of popular song, and although the genre certainly boasts more than its share of virtuosos — now more than ever, in fact — it isn't the type of music you turn to for instrumental chops.
Leave it to an outfit calling itself Charity and the JAMband to try and change all that: Over the course of several albums, this San Francisco-based collective has added a whiff of patchouli and the crunch of granola to the Cheerios-predominated kindie landscape, and their latest, titled Party Like a Twinkle Star, might be their most adventurous yet.
A double-disc affair clocking in at over an hour and 15 minutes, Party offers 20 tracks, divided evenly between 10 uptempo numbers ("for rocking out") and 10 gentle ballads ("for tucking in"). Charity and the JAMband are every bit as proficient at rocking out as you might expect, but it's the lullabies that truly shine — Charity's voice boasts an extra tinge of sweetness on the second disc, and although I wouldn't hesitate to play the first disc during rowdy moments with the kids, I'd actually be happy listening to the second one when the little ones aren't around. Hear samples (and buy the whole thing) at CD Baby.