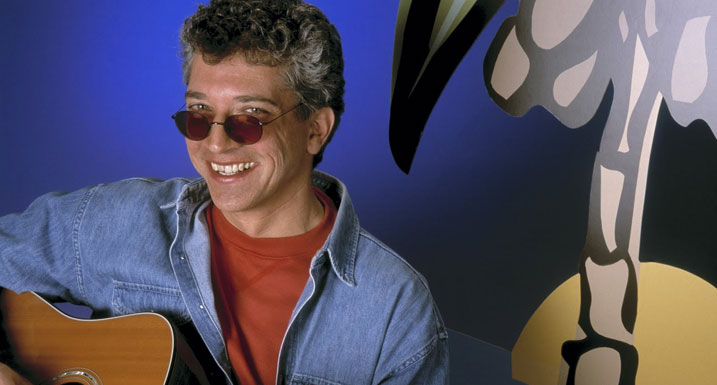 There may not be a family band on the market that loves playing live as much as Ben Rudnick and Friends — so when the time came to release their ninth album, they did what came naturally, and put together their second collection of live performances. Live in Lexington captures Rudnick and Friends in fine mid-summer form, running through a limber blend of original numbers and covers (including a few unexpected choices) for an appropriately rowdy crowd.
You don't see a lot of kindie live albums — and in the 'grown-up' world, they get a bad rap, because artists tend to use them to fulfill contractual obligations.
Not the live albums I know. You know, me and the guys in the band, some of our favorite albums were recorded live. And everything we do as musicians really comes from the live standpoint. The music we pay attention to on a daily basis is live. The Allman Brothers' Fillmore East was one of the first records I bought. The Dead's Europe '72 — I wore out my copy.
Even more modern releases like Frampton Comes Alive! were essential as far as my friends and I were concerned. That's just my point of view. So Live in Lexington, you know, for us, that was a really special show, as I think the best live albums often are. You can't really plan when those happen. In the studio, you can work your tail off to make something, but live, you've just got to belly up to the bar.
On the particular day we recorded Live in Lexington, we were still a quintet. The next day, our accordion player, Mark, who — the guy just has an unbelievable sense of humor and talent, musically and otherwise, and to get to play with him on the level we reached was really neat — the next day, he left the band. To have him go away was poignant. And we also had Rob Lee, who you can hear all over the record on saxophone.
And then just playing in Lexington — I think this was our 10th year playing there, and those Friday nights when we show up, you're talking about 2,000 people of all ages. We're doing it the way we know how, which is gung ho, just going to the hilt. I think you can hear that on the album.
I think it really comes out. I don't know if it's typical kindie fare, but we've picked up a couple of awards, so I guess it's all right.
Well, it doesn't fit the stereotype. You're doing a lot of songs that either aren't generally thought of as being for kids, like "Jambalaya," or were written for an adult audience, like Dire Straits' "Walk of Life."
Yes, exactly. But the kids love that stuff, and so do we, so it all blends in. I'm convinced there's no place on Earth, other than our shows, where you can go and hear "A Frog Named Sam," "Here Comes the Sun," and "Jambalaya" or, you know, "Hava Nagila" all together. We get to do whatever we want — it's really a musical trip for us. It's really a blast. I feel no restrictions. None. The only time I ever feel anything like that is when someone wants to describe us in a sentence. Are we country? Bluegrass? Rock?
How much of a playlist do you use during these shows?
We don't use any. None. And that's been known to cause a few problems now and then. Like this weekend, we're playing the Life Is Good festival, and they want to have someone next to the stage signing the lyrics to the songs, so I've had to whittle down the contenders to a list of 50 or so. [Laughter] The track listing on Live in Lexington was really just what happened to be floating our boat at the time. I think that was the first summer we'd played "Walk of Life," so it was fresh and exciting for us.
What made you want to be a musician in the first place? How did you catch the bug?
Colonel Agarn's cousin on F Troop. You ever see that show? He had a concertina, and I wanted one really badly. My grandfather got me an accordion, which I of course stared at in stupid astonishment. And then the Beatles came along, and it was all over. So yeah, that was it — F Troop and the Beatles. [Laughs]
What comes next for Ben Rudnick and Friends?
We're getting ready, once we have the time set aside, to record our next album, which I think it's going to be great. I think it has the best collection of tunes I've written since our Blast Off album, which was in 2004. This is the largest quantity of songs I've written for one record since then, and I feel like we're getting ready to take it up another notch. I'm really looking forward to working on it, because it'll give me another opportunity to sort of expand the box we've been playing in.
I can't wait to unleash it on society.
---