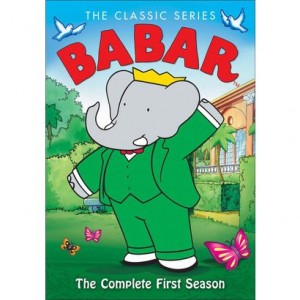 Warm milk. A bath in lavender soap. An old episode of the '80s TV adaptation of Babar. These are the three things that every parent knows can relax and put to sleep even the fussiest of toddlers. Glory be, as Nelvana's Babar, long a mainstay of VHS, the early morning hours of family-friendly cable channels, and on-demand services, is now available on DVD in full-season collections.
Originally airing on HBO, Babar: The Classic Series is the finest of many adaptations of Jean de Brunhof's long-running, 80-year-old picture book series about Babar, the elephant made king by introducing civilization to his brethren. And while the books feature a now dated and mystifying undercurrent of imperialism and taming the "otherness," the series is nothing but sweet and gentle, quiet and happy. Perhaps it's the crisp, soothing tenor of William Daniels (the voice of KITT from Knight Rider, Mr. Feeney on Boy Meets World), or that twinkling piano theme song that sets the tone for Babar's adventures that explore morality, understanding others, and just trying to be a good person (or elephant), who no matter who you are.
As a bonus, the whole thing has been re-mastered, so it's far more lush and less scratchy looking than I remember, yet still retaining that simple, hand-drawn, thick-outlined storybook quality. Babar: The Classic Series: Season 1 offers 13 episodes on two discs, and you can even watch it in French, which is, of course, the native language of Babar, the elephant king.