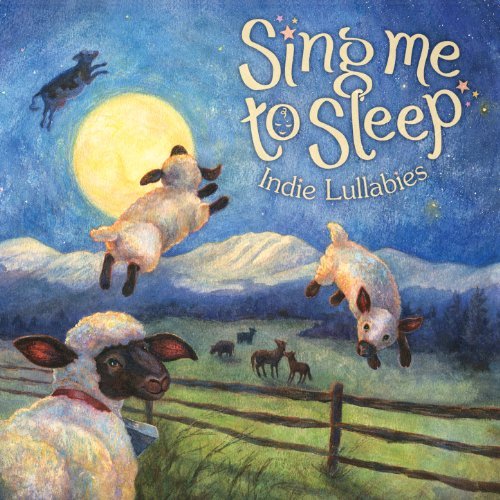 Like all parents of young children, I have learned to value/respect/crave the restorative properties of sleep in recent years, and along the way, I've come to develop a real fondness for lullaby albums. I never get tired of listening to them, or of watching them send my kids into a state of blessed unconsciousness, and so when I received an e-mail from American Laundromat Records asking me if I'd be interested in hearing a new compilation called Sing Me to Sleep: Indie Lullabies, I didn't even have to look at the track listing before I said yes.
Happily, that track listing turns out to be pretty superb — and even better, the whole thing is being done to raise money for the Valerie Fund, a non-profit organization dedicated to providing health care for children with cancer and blood disorders. It isn't often that a charity compilation is as excellent as the cause it supports, but Sing Me to Sleep is an unqualified pleasure — and the limited edition first pressing throws in seven bonus tracks, including the oddest, most soothing covers of "Kiss Off" (performed by Say Hi) and "Boys of Summer" (courtesy of Papercut) you're likely to ever hear.
The album's gorgeous, stately tone is set long before the bonus tracks, however — starting with Stars' haunting version of the Smiths' "Asleep" and continuing through appearances from Jenny Owen Youngs, the Real Tuesday Weld (who contribute a cover of "Little Boxes"), Dala ("Dream a Little Dream of Me"), O+S ("You and Your Sister"), Tanya Donelly ("Moon River"), and Trespassers William ("The Rainbow Connection"). Some songs are more successful than others, but this has more to do with an overall willingness to take chances (like, say, Casey Mecija's creepy cover of "Dear Prudence") than any real dips in quality. Put another way: If every song here doesn't quite work as a lullaby for easily freaked little ones, it should still be thoroughly enjoyable for you. Just a beautifully mellow record, stacked high with lovely performances — perfect for a cloudy day, a quiet afternoon, or meals with friends or family. And 100 percent of the proceeds go to help children in need. What else could you ask for?