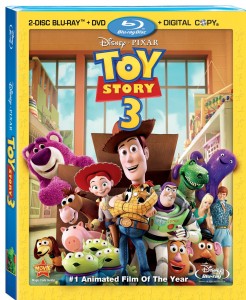 There is no doubt that Toy Story 3 is not only one of the best animated films of 2010, it's one of the best films of the year. Period. Should there never be another adventure of Woody, Buzz and the rest of the gang, the filmmakers certainly went out on a high note. Toy Story 3 has it all: adventure, laughs, suspense and surprisingly, a lot of grown up emotions that come to the surface in what was definitely sold as a childrens film. The film's climactic third act was gripping and near heartbreaking, while its epilogue was poignant and beautiful, bringing as many adults to tears as the kids.
If you haven't seen this blockbuster film, here's a brief synopsis: Andy, the beloved owner of the toys in the first two Toy Story films, is now 17 and heading to college. His mom gives him an ultimatum: pack up his old toys before he leaves for school of they wind up in the trash or donated to a local day care center. Through a mix up (there's always a mix up), our beloved toys, who have been pared down to the core favorites- Woody (Tom Hanks), Buzz (Tim Allen), Jess (Joan Cusack), Bullseye, Hamm the Piggy bank (John Ratzenberger), Slinky the dog (Blake Clark, replacing the late Jim Varney), Rex, the not so scary dinosaur (Wallace Shawn), Barbie (Jodi Benson), the Potato Heads (Don Rickles and Estelle Harris) and their adopted alien toys – nearly get crushed by a compactor, but then are driven off to the Sunnydale daycare center.
Woody is upset. He insists that being sent to Sunnydale is a mistake. Of course, the others don't believe him. Besides, Sunnydale looks like the perfect retirement home. The gang is greeted by a parade of new toys, led by the ever-cheerful Lots-O-Huggin Bear (Ned Beatty) and his right hand doll er, man, Ken (Michael Keaton). Ken is immediately smitten with Barbie and Lots-O-Huggin sets the gang up in a room where children will play with them all day long.
Woody makes his escape, adamant that he should be with Andy. Meanwhile, the gang finds out that Sunnydale has a hierarchy and that all new toys must start at the bottom rung— with the toddlers, who beat and paint and slobber all over toys. This isn't heaven; it's toy hell. As you'd expect, Lots-O-Huggin wasn't telling the whole truth. The gang, now led by Buzz, tries to clear things up with Lots-O-Huggin. Meanwhile, Woody winds up in the home of an adorable little girl named Bonnie, who has just as rich an imagination as Andy did when he was a little boy. Through the efforts of some new toy friends (voiced by Bonnie Hunt, Timothy Dalton, Jeff Garlin and Kristen Schaal) Woody meets at Bonnie's house, he learns the dark truth about Sunnydale and sets off to rescues his old friends.
From there, the film turns into a Great Escape type adventure, with Woody and the gang battling a reprogrammed Buzz and having to avoid being caught by Lots-O-Huggin and his toy thugs. Toy Story 3 is exciting and heartwarming, and although some of the plot devices are lifted directly from Toy Story 2, there are still plenty of surprises and tears to keep everyone entertained and clapping in the end.  And should Disney and Pixar decide to make another Toy Story film, they certainly left the ending open enough to allow for a fourth film.
As with all Disney's releases, Toy Story 3 is available on a Blu-Ray/DVD/digital combo pack. The picture quality is beautiful, as are all of the Pixar films on DVD and Blu-ray. It's tough to justify going to the movie theater and having to sit through a scratchy film print or a muted projection when you know that the DVD will eventually be released with pristine clarity, letting you see every minute detail the artists at Pixar put into the movie. Moreover, the sound is phenomenal, with excellent separation between the dialogue and the music.
Every Pixar release comes with a boat load of bonus features, including a short film. The short on Toy Story 3 is the whimsical Day & Night, directed by Teddy Newton and featuring a great score by Academy Award winner, Michael Giacchio. In addition to the short film, the DVD also comes with these exceptional features:
Toys! – A closer look at all of Toy Story 3's beloved toys from updating the classic characters to the creation of the Sunnyside Daycare and Bonnie's Room toys.
Buzz Lightyear Mission Logs: The Science of Adventure – Produced in conjunction with NASA, this hybrid animation documentary of Buzz's visit to the International Space Station focuses on research in zero gravity and Buzz's triumphant return to Earth.
Paths to Pixar: Editorial – Pixar editors, past and future share anecdotes about their careers.
The Gang's All Here – A touching look at the returning voice talent for ToyStory 3 and an introduction to the voices of the new characters.
A Toy's Eye View: Creating A Whole New Land – A sneak peek at the new Toy Story-themed playland at Hong Kong Disneyland.
Studio Stories – A series of amusing animated anecdotes about life at Pixar.
The Blu-Ray contains all of these features, plus these additional bonus features:
Toy Story Trivia Dash – This cool game challenges you to sprint to the finish with Woody, Buzz, Jessie and Rex as you quickly answer questions about all three Toy Story movies.
Cine-Explore – Commentary by Director Lee Unkrich and Producer Darla K. Anderson.
Beyond the Toybox: An Alternative Commentary Track Featuring Leads from Story, Tech, Art and Animation – Commentary by StorySupervisor Jason Katz, Supervising Technical Director Guido Quaroni, Production Designer Bob Pauley and Supervising Animators Bobby Podesta and Michael Venturini.
Beginnings: Setting A Story In Motion – Screenwriter Michael Arndt analyzes successful opening scenes from Toy Story, Finding Nemo andThe Incredibles.
Bonnie's Playtime: A Story Roundtable – A roundtable discussion with Director Lee Unkrich and the story artists who brought the "Bonnie's Playtime" scene to life.
Roundin' Up A Western Opening – The development of the movie's exciting opening scene.
Life Of A Shot – Toy Story 3 artists and technicians describe their contributions to a few of the shots in the film's "Western Opening."
Goodbye Andy – An exploration of character design, acting and animation in the scene "Andy's Goodbye."
Accidental Toymakers – By creating the Toy Story characters, the Pixar filmmakers found themselves in the unlikely role of toy designers. Meet thetoy company that took a chance on manufacturing the now iconic toys and learn of their incredible success that began with a modest number of Woody and Buzz Lightyear toys 15 years ago.
Making of Day & Night – The story behind the unique 2D/3D blended short.
You can't go wrong.  Whether you're thinking of buying this for your child or simply for yourself, Toy Story 3 is one gift that everyone should hope to find gift wrapped for them come this holiday season.