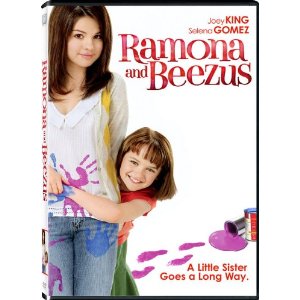 If you haven't yet seen the charming Ramona and Beezus, it's well worth checking out for your next family movie night. Beverly Cleary's beloved character, Romona Quimby, comes to life in a rare family film that has a little something for everyone, not just the elementary aged kids the film is marketed at.
For the young ones you have the story of Romona, an adventurous third grader with a vivid imagination. Romona always seems to be on the cusp of getting in trouble, but it's not because she's a bad girl. It's just that things don't always go her way. Loud and independent, Romona is an example for all kids to follow. She's wonderfully portrayed by Joey King, a young actress who has that ability to appear cute and make you smile, but isn't sugary sweet. Romona also has an abundance of love for her father and older sister, Beezus.
Beezus is Romona's nickname for her older sister, whose real name is Beatrice. Beezus is a teenager entering those awkward years when hanging around with your little sister is kind of a drag. She  is played by Selena Gomez, the Disney star, who shows much more depth and heart in this film than anything else she's done to date. The Beezus storyline, which entails her trying to get her crush,Henry Huggins, to go out with her and her dealing with the very adult issues of financial woes in her family, is aimed at the teenagers. It's well thought out and compelling.
For those twenty-somethings in the audience, we have Ginnifer Goodwin as Romona and Beezus' Aunt Bea. Bea's life changes when her old high school flame, Hobart, returns to town. Josh Duhamel, that manly man from the Transformers pictures, puts on the charm and has a goofy good old time in the film. He and Goodwin make a cute on screen couple and he also proves to be very good with kids.
Finally, there is the grown up material of the film. This plot deals with Romona and Beezus' parents, played by the always charming John Corbett and Briget Moynahan (currently on the CBS hit, Blue Bloods). Dad has just been laid off from his job and Mom has to rush and find work so that the family can keep their heads above water. The relationship between Romona and her father deepens as the movie goes on. The daughter encourages her father to follow his dreams and lifts his spirits when he is rejected time and again from prospective employers.
While there are some very adult issues being dealt with in the film, this is no downer of a story. Great casting and a well written script by Laurie Craid and Nick Pustay lift this movie high above the usual kid film blandness. Moreover, Elizabeth Allen shows visual flair and inventive filmmaking in capturing the tone and the delight of Cleary's creations. It isn't often that a family can sit down to a movie together and find something that is aimed at each and every one of them. Ramona and Beezus is a treat that lives up to the name "family film" and does it with pizazz.