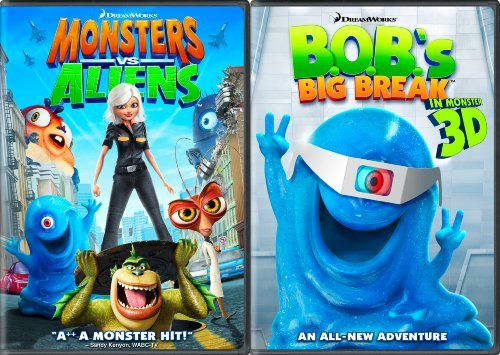 DreamWorks Animation has long been pegged as Pixar's dumber, more obnoxious cousin — and quite often, the studio's shabby rep is deserved: if you're looking for a brightly colored CGI spectacle stuffed full of pop culture gags and fart noises, chances are, whatever DreamWorks has on the menu will scratch your itch. If, on the other hand, you want to show your kids a piece of animation with a ton of lasting value, then you're probably going to come away frustrated (and left cleaning up all the toys, books, and videogame tie-ins your offspring will end up owning).
In recent years, however, DreamWorks has shown signs of becoming something more than just the house that Shrek built, most notably through the success of Kung Fu Panda, which some critics liked even more than WALL-E. The tie-in friendly 3-D spectacle Monsters vs. Aliens didn't settle on quite as lofty a critical perch, but it still enjoyed some of the studio's best reviews, and it's easy to see why: with thrilling state-of-the-art animation, a voice cast that included Reese Witherspoon, Seth Rogen, Rainn Wilson, Will Arnett, Stephen Colbert, and Paul Rudd, and a very funny script that just so happens to be 99% free of doody humor, it's one of those rare "fun for the whole family" movies that actually ends up living up to its billing.
The story follows the travails of poor Susan Murphy (Witherspoon), a bride-to-be who is transformed into a giantess after being hit by a meteor on her wedding day. Spurned by her horrified fiance (Rudd) and captured by the government, Susan is locked in a high-security prison where the government has been secretly stashing other "monsters" like the man/roach hybrid Dr. Cockroach (Hugh Laurie), a preening fish/ape named the Missing Link (Arnett), a gelatinous blob named, well, B.O.B. (Rogen), and an enormous larva dubbed Insectosaurus. She's told she'll never be able to leave, and her family will never know where she's been taken — but when a diabolical alien named Gallaxhar (Wilson) sends a huge robotic probe to Earth in search of Susan (long story), the government springs its prisoners in exchange for their help fighting the intergalactic invaders.
It's the kind of movie that's made for 10-year-old boys, in other words — and the one I watched Monsters vs. Aliens with seemed to appreciate the consideration, chuckling at all the right parts and remaining in the film's jelly-coated grasp until the closing credits rolled. He didn't quote any lines from the movie later, nor did he bring it up in conversation later on, both of which are seriously atypical for this particular 10-year-old boy, but it makes sense: Monsters vs. Aliens is equal parts pleasant and inconsequential, the perfect movie to use as an excuse to switch off your brain and giggle for 90 minutes, then forget about. As such, it's probably not the kind of movie you'll rush to add to your library, which might be why DreamWorks has gone out of its way to pack the home version with extras — for the price of an ordinary DVD, you get the movie and all its bonus content, four pairs of 3-D glasses, and a bonus disc containing the short feature B.O.B.'s Big Break (also in 3-D). Not a bad bargain for a movie whose budget was so enormous that not even a $380 million worldwide gross was enough to guarantee a sequel.
Don't look to it for any kind of real message beyond your standard "accept yourself even if you're blown up to enormous size by space radiation," but for a little harmless (and visually spectacular) fun, Monsters vs. Aliens does the trick — and it's hard to beat this price. With gift-giving season right around the corner, this is a title well worth keeping an eye on.