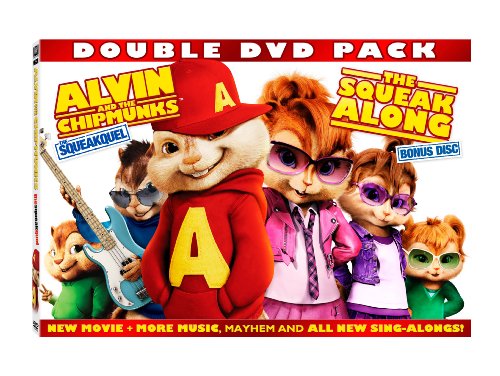 If you're sitting down to watch Alvin & The Chipmunks: The Squeakquel expecting high art on the level of Pixar or Dreamworks' finest, you should turn off you DVD player and return the movie to where you bought it. However, if you just want to have a pleasant, fun time with your kids, you'll be surprised to learn that The Squeakquel is actually more enjoyable than its 2007 predecessor. Free of the burden of having to tell an origin story to its audience, this new film dives right into its story and keeps things moving along at a brisk, entertaining pace.
The Squeakquel opens with good guy, Dave (Jason Lee), the surrogate father of the chipmunks, Alvin, Simon and Theodore, suffering a debilitating injury at the tail end of a chipmunk "Save the Music" concert (thanks to Alvin, of course). While Dave is laid up in a hospital bed, the chipmunks are sent home and enrolled in high school. Looking after them is a distant relative of Dave's, Toby, played with goofy charm by Chuck's Zachary Levi. Toby is a gaming nerd with no social skills and little self confidence, except when he's kicking ass against his anonymous online friends.
The chipmunks' story follows a standard story of friends entering high school, with Alvin falling into the cool crowd and alienating his two brothers. Since this is a movie about internationally famous recording artists who are furry forest rodents, you let it slide that Alvin, Simon and Theodore easily slip into high school clichés. Plus, you know, this is a kids movie. To help make the school scenes funnier is the presence of the great comic actress, Wendie Malick (Just Shoot Me), as principal Rubin. She persuades the chipmunks to represent their school in Music Mania, a competition that could award the school money for their failing music program. Reluctantly they agree.
News of the chipmunks competing makes headlines, allowing the film to introduce the film's antagonist, Ian Hawke, that detestable music exec from the first film. He's played with glee, once again, by David Cross. In the first film, Ian was a music svengali, milking the chipmunks for all they were worth until his plan failed, he was fired and rendered penniless. Ian is now living in a basement, digging through dumpsters, and fighting rats for food. He dreams of getting back at the chipmunks and somehow regaining his crown as a top music executive. If only…
As if on cue, a Fed Ex package rolls up to Ian's feet and out pop three girl chipmunks, the Chipettes! They are Brittany, Jeanette and Eleanor and they aspire to become internationally famous recording starts, too. Ian's eyes light up and he begins plotting his comeback. His plan: to enter the Chipettes in the same music competition, defeat Alvin and the boys, then score a huge record deal, securing his place in music history and making millions of dollars.  Naturally, the girls have to enter high school, allowing the two plots to converge and lead up to an action packed, music filled climax.
There is a great deal of talent behind this film, from veteran family film director, Betty Thomas, at the helm, to the actors providing the voices of the chipmunks. Joining returning actors Justin Long (Alvin), Matthew Gray Gubler (Simon) and Jesse McCartney (Theordore) are Christina Applegate (Brittany),Anna Farris (Jeanette) and Amy Poehler (Eleanor). As for the flesh and blood actors, Levi turns out to be a fine substitute for Lee (who appears in a handful of scenes), while Cross gives another spirited performance as Ian. The movie moves at a slick, glossy pace, par for course for most kids films. Like I said, The Squeakquel isn't high art, but under the right frame of mind, especially sitting with your kids, who will eat up the CG chipmunks and high pitched musical numbers, The Squeakquel is a good time.
The bonus features on two-disc special edition are actually pretty good. There are several behind the scenes featurettes, all done tongue in cheek, as if the chipmunks are actual living creatures. "Music Mania" breaks down all the planning and rehearsal that went into the final film sequence; "Behind the Squeaking" is a fauz "Behind the Music" featurette on how "difficult" the chimpunks can be as actors; "Meet the Chipettes" goes over the history of those cute characters and how they came to be back in the early 80's; and 'Munking History: 50 Years of Chipmunk Mischief, Mayhem and Music" details just what it says it does. There are also music videos for the songs in the movie, three of which are sing-along videos. Overall, the extras on this DVD will provide just as much entertainment as the movie.