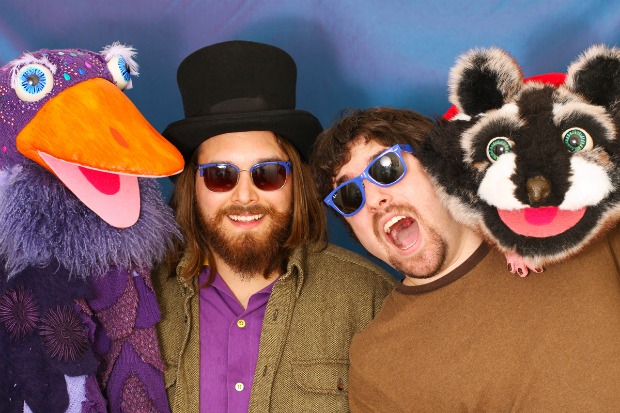 If you had to go away for awhile and you could only take five of your favorite albums with you, which ones would you choose? Yes, we know it isn't a fair question, but that hasn't stopped us from asking music fans who happen to be recording artists in their own right. This edition of Desert Island Discs comes courtesy of Rolie Polie Guacamole, whose latest LP, Houses of the Moly, is out now. You can preview a video from the album below — after reading their Desert Island picks, of course!
Boards of Canada, Music Has the Right to Children
In high school we discovered this album and it really changed our understanding of what music could be. After years of rocking out to the likes of Nirvana, Red Hot Chili Peppers, and Alice In Chains, it shifted our taste and allowed us to welcome more electronic music like STS9, M?m, Björk, & Röyksopp. The warmth of their synth triggers euphoric childlike emotions, almost like an intense meditation session. Our music has been growing increasingly electronic as we mature, with synths on "Swim Like the Dolphin," "Prospect Park" & "Açai" on our second album Time for Hummus, and thick layering and pulsating arpeggios throughout Houses of the Moly. Music Has the Right to Children was one of the first albums with no words that we could listen to from start to finish and continues to delight when we're on the road and chilling in Brooklyn.
Radiohead, Kid A
In high school we bonded listening to The Bends driving around in Frank's 1992 Toyota Celica. Although The Bends and OK Computer introduced us to the band, Kid A and Amnesiac's unique mix of rock and electronica put them on a whole different plane. It was a hard choice as every Radiohead album is great for its own reason. The reason we picked Kid A over Amnesiac (which has Frank's favorite song, "I Might Be Wrong") is its pure hit power. Songs like: "Everything in Its Right Place," "Kid A," "The National Anthem," "Optimistic," "Idoteque" & "Morning Bell" illustrate why Radiohead is considered the greatest living rock band. As far as British rock goes we see the progression from the Beatles – Pink Floyd – Radiohead, all of whom recorded at Abbey Road. Thom Yorke's vocals had a huge effect on the band's overall style and range. Johnny Greenwood's layering and sound effects inspired our band to push the boundaries of what kindie music can be.
Primus, Frizzle Fry
Les Claypool has had a huge influence on Rolie Polie Guacamole. Not only is he an amazing bass player, but his song writing is so unique and energetic. The humor in his songwriting really keeps the songs fun for all ages on different levels. "Frizzle Fry," although it contains Les' sloppiest bass playing, has the best songwriting. Every track is a hit, from "Frizzle Fry" & "Too Many Puppies" to "John the Fisherman" & "Pudding Time." The song writing and bass playing is so stellar that often Larry LaLonde's avant garde guitar playing and Tim Alexander's flawless syncopated drumming go unnoticed. We have a special appreciation for trios, as Rolie Polie Guacamole usually plays as one.
Joni Mitchell, Blue
No desert island collection would be complete without the queen of songwriting: Joni Mitchell. Much in the way Michael Jackson was influenced by Diana Ross, Frank's vocals have matured thanks to the raw beauty of Joni's. As a tribute to Joni we put her song "Circle Game" on Houses of the Moly. Her personal lyrics paint a vivid canvas in your mind. Every time "California" is played it makes you want to drop what you're doing and head for the coast. It's Joni's masterpiece, and will be adored by music buffs as long as people listen to music.
Ween, The Mollusk
The best album to listen to when in a beach setting is Ween's The Mollusk. Since we first listened to it Ween has become one of our band's biggest influences. In fact we love this album so much that we've been known on rare occasion to cover "The Mollusk," "Ocean Man," "It's Gonna Be Alright" and "Cold Blows the Wind." The thing that is so great about Ween is their versatility. They don't take themselves too seriously, which allows them to play music from almost any genre. An example of this is the contrast between "Cold Blows the Wind" and "Pink Eye on My Leg." If you listen to the two tracks back to back you'd think it was two different bands. Their creativity and constant push to outdo themselves reminds us of the reason we started writing songs in the first place.
This list was very difficult to compile but a lot of fun! We tried to take a little from each genre and tried to pick the ones we'd best agree on as a band. So we'd like to give out some honorable mention ribbons for those who didn't quite make the cut:
The Beatles – Abbey Road,
Nirvana – In Utero,
Jimi Hendrix Experience – Axis Bold As Love,
Pink Floyd – Dark Side of the Moon,
CSNY – So Far,
Weezer – Pinkerton