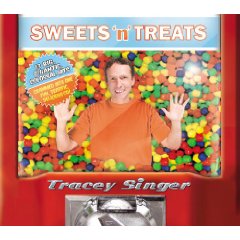 You'd never know that kids' music artist and singer/songwriter Tracey Singer is not a former rock musician or that he's never dabbled in this line of work until becoming a work-at-home dad, because his debut, Sweets 'n' Treats, features thirteen songs that are just so darned catchy.  Singer, who has four kids under the age of nine at home, and has obviously had the chance to test his material plenty, also hired GRAMMY winning kids' artist Buck Howdy to produce the record.
This is not music for toddlers, or at least it wasn't for my toddler, who is not quite two.
  But the melodies are above average and likely simple enough to keep the attention of any kid between the age of 3 and 10, as well as the parents of said kids.
  The material is fun, though at times pokes fun at folks—especially on "Mall Mom" and the absolutely hilarious "Baggy Pants," which pokes fun at those who like to, you know, show their butt crack.
  And the two catchiest songs of all are the title track and "Christmas in July."
There are some low points, like the grating "Nana Nana Boo Boo," but for the most part Singer has delivered a really solid debut and could have a nice future in this field.