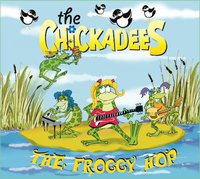 There's a lot of mindless kids' music out there, the kind of stuff that makes me question why kids' music is even a separate genre unto itself. The ridiculous, corporate, often brand-promoting junk with a carefully contrived mix of barely educational messages and hollow silliness prepared by people who have never met a child, the reason why I mostly just let my kid listen to whatever music I listen to, minus the songs with inappropriate material.
The Chickadees, thankfully, are not that kind of kids' music. It's a passion project from singer/songwriter Mary Karlzen (who had a great album come out in 1995 called Yelling at Mary) who, has followed the career path of other indie rock cult faves Dan Zanes and Ralph Covert and gone into kiddie entertainment. Karlzen's approach is more than just good music kids can call their own—the Chickadees (a fairly clever name, as the band is entirely female) profess an environmentalist message. All kids are inherently environmentalists; they love animals and they love being outside. Pop culture and entertainment can help solidify those feelings, and that's what the Chickadees aimed to do with their second album, The Froggy Hop.
It's a pleasant country folk romp, a good fit for songs about being outside. The Froggy Hop has two main themes: how animals are amazing ("Tiny Little Caterpillar," "Animal Babies"), and save the planet, kids ("Planet Protectors," "Reduce, Recycle & Reuse"). A little didactic? Sure, but you can't be subtle about important stuff with pre-schoolers. In that regard, the Chickadees are like Rage Against the Machine, except friendly, approachable, and concerned more with pollution than Zapatistas.