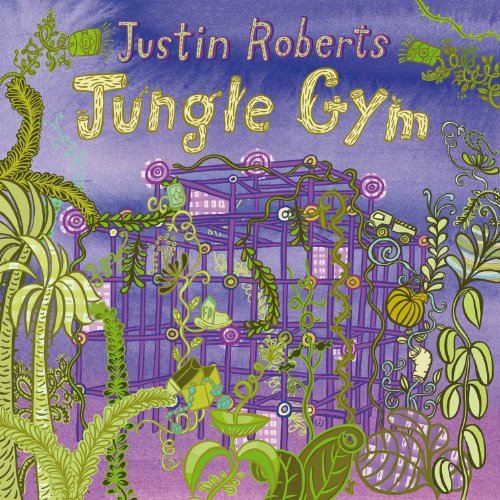 If you're already familiar with Justin Roberts and are just wondering if his latest release is as good as his others — or if you're simply the kind of person who likes skipping to the "star rating" portion of the review — I'll make things easy for you right up front: Roberts is awesome, and so is his new album, Jungle Gym. Pre-order it now.
Now I'll get a little more in-depth as to just exactly why Justin Roberts is so awesome, and why, if you're the type of parent who loves music and would like to pass that along to your kids, you need to add his music to your family playlist.
In pure songwriting terms, Roberts outclasses most of the "grown-up" artists I listen to on a daily basis. Like any other kids' performer, he understands how to address youth-oriented themes, and he does it really well — more on that in a minute. But compositionally, Roberts is in a league of his own, both from a nuts-and-bolts music theory standpoint and from a kitchen-sink production/arrangements standpoint. He loads his songs with the kinds of smart changes that make dyed-in-the-wool pop fans smile, and he's got a terrific secret weapon in his producer, Liam Davis, a guy who knows how to stuff Roberts' tracks with everything from French horns to fat stacks of backing vocals without overwhelming Roberts (or the listener). Justin Roberts' records are pure ear candy; if you could look in the dictionary under "music everyone in the family really, truly, honestly can enjoy," you'd see a picture of his earnest smile.
And that's the other thing: Roberts is either a wonderfully warm-hearted guy or a very good actor, because he's not only very good at writing for children's themes, he might be the best at communicating them. This starts with Roberts' voice, which is somewhat childlike itself — it's high and slightly, sweetly nasal — and extends to his lyrics. He's the kind of performer who not only knows who to bounce around with the fun stuff (Jungle Gym examples include playing Duck Duck Goose, trick or treating, and playing in a cardboard box), but strikes right at the heart of the startling doses of reality we tend to forget kids have to deal with. This means piano ballads like "Sign My Cast," but it also means brilliantly, chills-inducingly simple songs like "Never Getting Lost," about a trip to the mall with Mom that takes a scary turn:
The security guards they're working very hard
They're making lots of calls
But there's nothing they can do
When I only need you
And I try not to let my tears fall
Mom eventually arrives, of course — and part of what makes Roberts so great is that he includes the line "When I saw her there I could almost see / She was looking just as lost as me." It's a small touch, and one that might go mostly unnoticed, but it really speaks to the level of care, craft, and understanding he brings to his songs. This is family music, in the truest, best sense of the word.
But don't take my word for it. Visit Justin Roberts at his website, where you can sample music and videos from earlier albums, as well as download a free mp3 from Jungle Gym. Then go pre-order your copy!