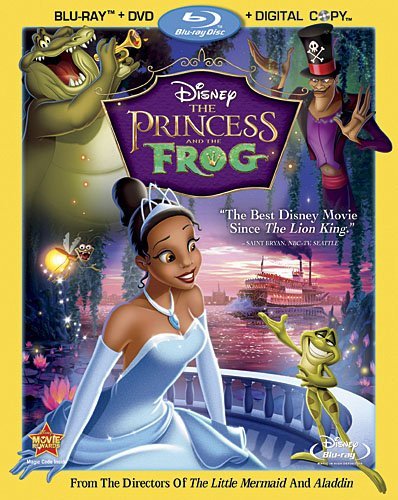 Even if you aren't the kind of person who tends to get caught up in hype, you have to admit that last year's Princess and the Frog made for a pretty killer story. The studio that invented longform animation, then abandoned it for CGI, returning to its classic roots…led by the guy who directed Toy Story and helped start sounding traditional animation's death knell in the first place? What could be more perfect?
Well, in Disney's eyes, the movie's eventual $264 million worldwide gross could have been a little bigger — and as far as most critics were concerned, The Princess and the Frog was a solid, albeit disappointingly slight, effort that didn't quite live up to its advance billing. (Not that anything could have, but whatever.) For a studio that spends an inordinate amount of effort trying to make filmgoers believe each of its releases is a certified classic (except Song of the South, right? Ha ha), the lavishly promoted Princess was a bit of an embarrassment.
Scrub away all that hype, though, and Princess is actually quite a bit of fun. If you're the type of parent who, like me, sort of detests the whole Disney princess thing to begin with, the movie won't do much to change your mind — despite a few surface changes to the studio's formula, it's very much the slice of happily-ever-after fairy tale that the title indicates — but it's beautifully animated, with vibrant characters, gorgeous visuals, and a gently rollicking set of songs from one of my favorite artists of all time, Randy Newman. I mean, hey, it's Disney. What exactly are you looking for, if not peerless craft in service of a storyline that probably doesn't quite deserve it?
The story takes place in New Orleans, where we meet Tiana (Anika Noni Rose), a hardworking waitress who scrambles from shift to shift while trying to save enough money to open the restaurant her father dreamed of owning while he was alive. The town is abuzz with the arrival of Prince Naveen (Bruno Campos), a cash-poor scion of Maldonian royalty who's running out of time to find a wealthy bride before his parents disown him. Enter Tiana's blowsy childhood friend Charlotte (Jennifer Cody), the daughter of the town's wealthiest man (John Goodman), who has her sights set on marrying a real prince and throws a party to get his attention.
Meanwhile, the prince runs afoul of a scurrilous voodoo man (the always wonderful Keith David), who turns him into a frog and makes Naveen's butler (Peter Bartlett, known to One Life to Live fans as Nigel) look like the prince. Eventually, Naveen hops into Tiana, who's working at Charlotte's party — and if you watched the trailer, you know he cajoles her into kissing him, at which point she becomes a frog too. Adventure (and a talking alligator voiced by Emeril Lagasse) ensues. You know the drill: Cue a few song and dance numbers, some mild peril, and an ending where, against all odds, the bad guy gets his just desserts. There are no surprises here, but that's sort of the point. As I said, it's all very well done, and if the storyline is a little more mature than some of Disney's other animated features, don't worry — my four-year-old was positively spellbound by the characters, even if some of what they were doing went over her head. Any time you have talking animals on the screen, you can pretty much bank on kids enjoying themselves. (Notable exception: Fritz the Cat.)
If you've picked up any of Disney's Blu-ray catalog reissues, you know no one takes advantage of the format like the Mouse House. I've seen Blu-ray reissues from the '90s that look worse than Snow White and the Seven Dwarfs; whatever the studio's flaws are, they know what they're doing when it comes to hi-def titles, and that includes The Princess and the Frog. The movie's palette is as bright and rich as you'd hope, given the story's New Orleans location, and this 1080p transfer brings every hue and shadow bursting onto the screen. It's stunning — and unlike, say, Snow White, it has a fully immersive DTS HD Master Audio soundtrack to match. Even if the audio/visual presentation was all Princess had going for it, the Blu-ray would be the version to own.
But, of course, there's more. In fact, Princess comes bundled with an array of bonus features, including deleted scenes (works in progress, but still worth watching), behind-the-scenes featurettes, art galleries, a game, a Ne-Yo music video, and commentary tracks from co-writers/directors John Musker, Ron Clements, and Peter Del Vecho, plus BD-Live content. Disney's selling the title in a variety of configurations, but if you're going to go Blu-ray, you might as well get the triple disc Blu/DVD/digital pack; it's $7 more than the single-disc Blu-ray version, and unless you've got a portable Blu-ray player in your car, it'll save you the headache of jumping through whichever hoops conversion takes. (As curious as I am about Disney's "keychest" technology, which is supposed to allow you to take your movies wherever you want them to go, I'll miss the pleasing heft of these triple-disc sets.)
Bottom line? While John Lasseter may not have brought Disney back to traditional animation as resplendently as he ushered in the CGI era, The Princess and the Frog is still a thoroughly enjoyable addition to the studio's legacy, and this is the best-looking version on the market, with plenty of bonus content and a relatively affordable price tag to boot. If yours is the type of household that does a lot of wishing on a star, consider this another bright one in the firmament.